Akeiva Ellis
An Emphasis on Education
How Akeiva Ellis created a role for herself that combines her love of financial planning with financial education and empowerment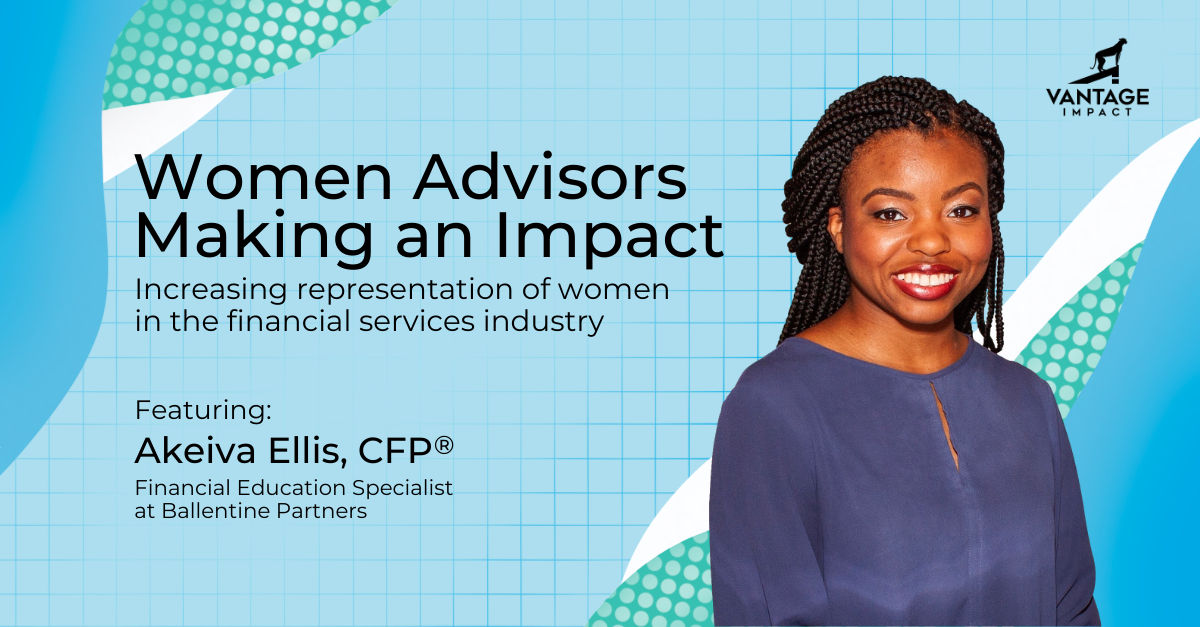 When Akeiva Ellis was a high school senior filling out the FAFSA, she realized how much she didn't know about money—a realization that would ultimately springboard her into a career in financial planning and education.
Her parents immigrated from the Caribbean island of Tobago, and growing up in her household, money was not a topic often discussed.
"My parents went to college as international students, so filling out the FAFSA wasn't an experience they had to go through, or could even help me with," she says.
But instead of letting the situation overwhelm her, she used it as motivation.
"In true Gen Z fashion, I went down a Google rabbit hole, [learning] about money," she reflected. As she researched, she learned about financial planning as a career. She remembers thinking, "A whole career where I can help people with their money—where do I sign?"
And now, helping people with money is exactly what Ellis does through a unique role she helped create.
Many people find their way into financial planning after working in other sectors of the finance industry, but Ellis jumped right into the field, joining Ballentine Partners as a financial planner immediately after finishing her undergraduate degree.
It's important to her that she approaches her work through the lens of her unique experience in an immigrant family.
"[My background] absolutely informs the lens that I bring when I talk about money, and it's something that I acknowledge very openly and often. All of us approach this big topic of money from very different angles, and it's definitely one of the parts of my life that strongly informs the work that I do—the way that I teach about money and the way that I view money," Ellis says.
Understanding cultural nuances—and that sometimes families simply don't talk about money—Ellis seeks ways to help break down those barriers and make the world of financial planning more accessible to people of all backgrounds.
To address this need, Ellis worked with Ballentine Partners to create a position that leveraged her skills as a CERTIFIED FINANCIAL PLANNER™ but is driven by her passion for financial education. Now, Ellis serves in a multifaceted role as Ballentine's financial education specialist, creating content, curriculum and running financial education workshops to help inspire and inform the next generation. While she does work with a limited number of clients in a traditional financial planning capacity, this role also allows her to educate others about finances, wealth building, diversity, equity, and inclusion (DEI), and more.
As a Black woman in an industry predominately made up of white men, Ellis also values her work on Ballentine's DEI initiatives, including advocating for the recruitment of diverse talent into the workforce and working to diversify the clients that Ballentine serves.
Knowing how financial planning changed her life, Ellis is excited about increasing awareness about the career for other young people. "No one told me about this field," she reflected, and it ended up being such a good fit.
"The more that we can even just expose this career as an option for people—up and coming students and others who might be interested—the more I think that pipeline naturally increases," Ellis says.
With this in mind, Ellis seeks to create pathways that make it easier for underrepresented individuals to pursue financial planning careers. "One of the things we do at Ballentine in partnership with the CFP Board is we have a scholarship for people who want to do their CFP education—specifically for Black and Latinx [financial planning professionals]—as a way to reduce that potential barrier for entry into the profession."
With more diverse talent joining the profession, then comes the inclusion aspect of DEI, Ellis says. She helps ensure that planners and staff at her firm are culturally informed and address biases in order to "build with intention a company culture that is supportive of everyone."
Her role at Ballentine also gives her some creative freedom: she also hosts a podcast focusing on DEI and financial education. The brainchild of Ellis and her manager, ''Ballentine Broadcast: Conversations on Black Wealth" seeks to explore how wealthy Black families are being served in the financial space. Listeners hear from Black millionaires and 7+ figure business owners about their wealth building journeys, experiences working with financial professionals, and their thoughts on what the financial services industry can do to help close the racial wealth gap, which directly aligns with Ellis' priority of helping to build economic equity.
Ellis has created a unique role within the financial services industry that keeps her quite busy, yet believes in making time to serve as a mentor to others entering the field. She remains dedicated to this work, due in large part to the mentors that opened themselves up to her. Whether it was through mentors she met through the National Association of Personal Financial Advisors (NAFPA), the Association of African American Financial Advisors (AAAA), her role as a CFP Board Ambassador, or within her company, Ellis is grateful for the knowledge she's gained from others.
And now, Ellis happily takes on that role herself. "Mentoring is one of my favorite things to do," Ellis reflects. "Lots of Black women find me, and I especially love being a resource for them."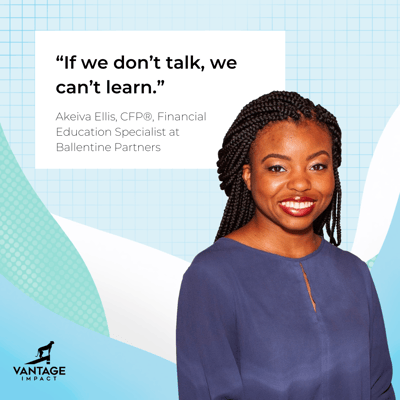 Significantly, Ellis' interest in enabling economic equity doesn't end when she clocks out at Ballentine each day. Since 2018, Ellis and her husband have been educating others via their own financial planning channel on YouTube, "The Bemused: Making Sense of Money." Reflecting on the time when she had no one in her community to turn to for financial advice, "The Bemused" became a way to share what they knew with their peers. The couple is transparent with their viewers about their financial journey—even going line by line through their home purchase experience to act as an example for their viewers. "We feel like it's a way for people to relate," she says. "If we don't talk, we can't learn."
Ellis' enthusiasm for financial planning and education has allowed her to craft a unique role for herself within the industry, and she encourages other women to find their own ways to make an impact in the field. She advises others who are trying to figure out their niche or business model to have conversations with people who work in all different areas. "Hear their stories, learn about pros and cons. Everybody's path is going to be different," she says.
Ellis' lightbulb moment while filling out the FAFSA all those years ago has led her to a fulfilling professional life. While at the time she likely never envisioned the future she has now created for herself, Ellis feels fortunate to have realized her "life's calling to promote economic equity, justice, and empowerment," and to have created a job that so perfectly combines her skills and passions in a way that can positively impact others—and she encourages others to do the same.
"There is so much opportunity if you go looking for it and ask for it," she shared. "Don't be afraid to ask."