Angie Messer
Time for Change
How Angie Messer transitioned from biology researcher to financial planner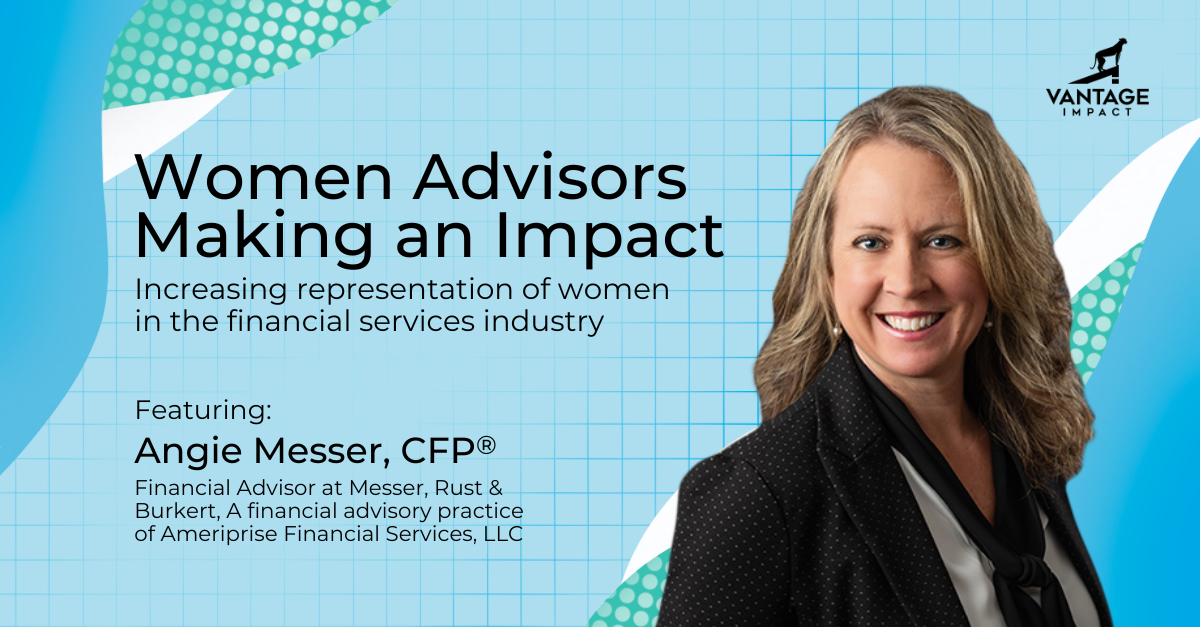 Angie Messer knew she needed to pivot. She had a full-time job, three kids and three hours of commute time each day. The load was unsustainable. Messer had built a career in research at an urban hospital, and her rural town couldn't offer anything similar, so it was time for a change.
After a few years working for her husband's business while raising kids, she wanted something all her own. An opportunity popped up with a local financial advisor who wanted a female partner to bring a new and valuable perspective to his clients. Even with no financial experience, Messer believed it was a good fit.
"It just interested me because there's a lot of research in this field. Even though I had to learn about finance, I felt like the core of it was research – the investment products as they come out, the world news, the markets, what is going on with somebody's performance and their account – basically a lot of questions we get from clients, we have to just go and research it because things change so often and our industry is so complicated," she explains. "That's where I found my background played into the position."
Though she was conscious of her lack of experience, she quickly realized she and her partner had complementary skills and strengths. Where he had years of knowledge and a robust client-base, she had natural intuition and communication skills that many clients were craving. Those skills have proven especially important in a small town where people expect responsiveness and personal relationships, she says.
"The number one thing is that they know I'm accessible…that's something clients value. They know that if they drop in, I'm going to be able to pop out and see them, if at all possible, to answer a question," which, she mentions, gives her an edge over larger groups.
For the next decade, Messer and her partner grew their client base and their team until he requested to dial back as he edged into retirement. He hoped to sell his book of business to Messer and continue to work for her as a financial advisor, but their broker-dealer prevented them from forming their succession plan the way they wanted. Once again, it seemed time for a change.
For two years Messer and her partner did what Messer does best – they researched. They weighed the pros and cons of switching firms. Dreamed up hypotheticals. Assessed resources, technology, salaries, flexibility. They considered everything, she says.
"I wouldn't say I overanalyze things, but I want to be very, very confident when I make a decision," she says. "It's the type of thing you can't be 100 percent confident about, and it's a little bit of a leap of faith to make a change like that."
Their leap turned into a push when their firm was unexpectedly acquired. Rather than waiting through that transition, she jumped to join Ameriprise, who they had been researching all along, where she is still running her practice today. Despite all the planning, the shift was difficult, she says.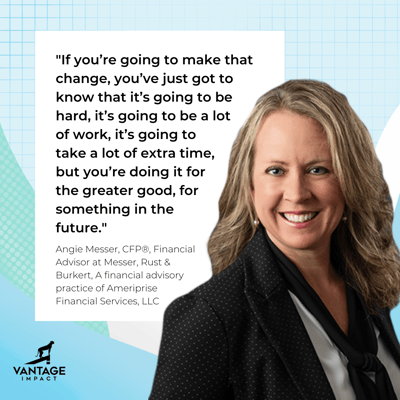 "The transition was as good as it possibly could have been, but it was still very challenging," she says. She emphasized that even though the transition was challenging, she'd do it all over again. "If you're going to make that change, you've just got to know that it's going to be hard, it's going to be a lot of work, it's going to take a lot of extra time, but you're doing it for the greater good, for something in the future."
That future now includes more employees and a diverse portfolio of over 400 households. The clients she serves range in the amount of assets, but Messer insists females are poised to best understand and serve diverse sets of clients. She offers an example from her partnership: during meetings, she could read nonverbal cues and intuit a client's needs and feedback quicker than her male partner. It allowed her to quickly pivot and tailor for individuals.
"I think the industry needs more females," she says, underscoring how the role of a financial advisor today is less about brokerage and more about listening to a client's needs and helping them plan better. "In a lot of ways you're just like a counselor to these people. There's no reason why females can't do that as well as or better than males."
"I think a lot of times the math part scares people or women, or it's not something that's a go-to occupation for females, but it's not really about the math, it's really more about the relationships and the coaching, and the guidance and the trust and the advice."
She places a high value on relationships when hiring new employees. Skills can be taught, certifications can be gained, but personality and values need to align from the start, she says. "You have to have the same values [as your employees], period, bottom line," she says, noting trust, honesty and work ethic rank highly for her.
As she looks back, the perpetual researcher offers some unusual advice: you can't plan for everything. No matter how much you organize and strategize, change often blows in unannounced. In her case, that initial pivot was dramatic, but welcome.
"I felt like it was an opportune time to learn something new and different," she says.