Brenna Surette
Making Connections
How Brenna Surette Found a Perfect Fit With Financial Planning—And Why Other Women Might Too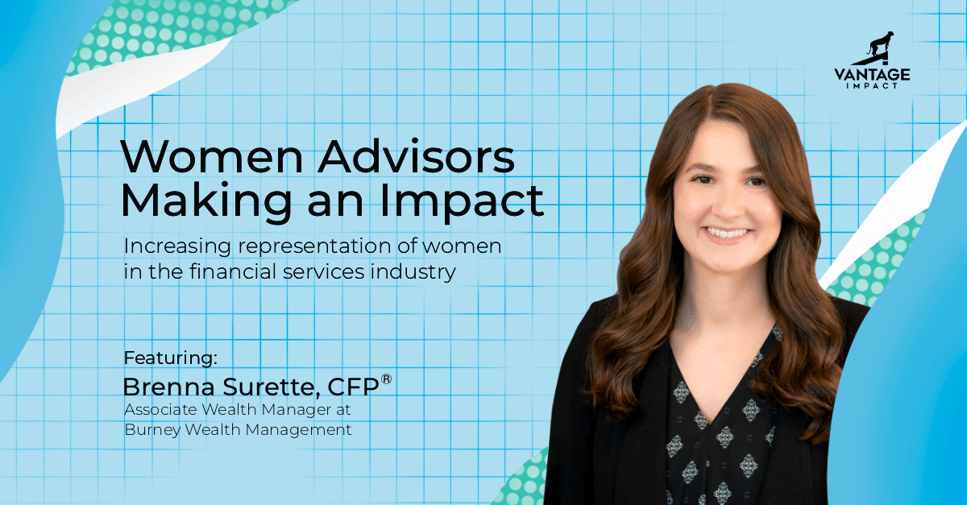 For Brenna Surette, the path to becoming a financial advisor was a bit serendipitous. She enjoyed her business classes at George Mason University, but as graduation approached she hadn't found her true passion yet. She began searching for entry-level client services roles, hoping to gain experience and navigate her career path from there.
She came across a job posting and applied for a client services associate position at Burney Wealth Management, a registered investment advisor (RIA). She clicked with the company right away, and was offered a position that she quickly accepted. Not long after, she started to connect the dots—realizing her skills and interests were in total alignment with financial planning.
"Something I always wanted in a career was the fulfillment you get from helping somebody," Surette says. "Talking to new people each day and building relationships has always been something I've really enjoyed." Being the middle of five children in her family gave her plenty of opportunities to deal with different personalities, resolve conflicts, and grow relationships—all of which have helped her build connections with clients. Additionally, she enjoys the analytical component of financial planning—developing different scenarios to help clients make decisions and reach their goals.
"Those two sides together, it couldn't be more perfect for me," she says.
Now 3.5 years after joining client services at Burney, she has earned her CERTIFIED FINANCIAL PLANNER™ certification and is working toward a master's degree in financial planning, with a concentration in retirement planning. As part of her program, she'll also earn her Retirement Income Certified Planner® designation.
Surette credits her colleagues at Burney for encouraging her to pursue her passions. From pushing her to further her education to giving her the flexibility she needs to coach a high school dance team, she feels very supported. Compared to larger broker-dealers, RIAs like Burney tend to have more of a family dynamic, giving advisors more personal attention.
"From day one, I have always felt genuine support for what I'm doing, and the people around me have been nothing but encouraging," Surette says. "From talking with my peers in the industry, I think you can get that at a bigger company, but it's just different."
Surette also noted that she feels like everyone at Burney has a voice at the table, "Whether you're the president of the company or fresh out of college, you'll be able to share ideas with people and you'll feel important, like everything you're saying matters."
While Surette found an incredible fit at Burney, it didn't take long for her to realize that she is often the only woman in the room because of how underrepresented women are in the industry. Barron's magazine reported in 2020 that less than 20% of financial advisors are women, and the CFP Board reports that only 23.4% of CFP® professionals are women.
Coming into the workforce, Surette was accustomed to being in situations with many women—she was a marketing major, which traditionally attracts a lot of females, and has been involved in competitive dance most of her life, which is also female-dominated. The lack of female leaders in the financial services industry was noticeable.
"I didn't have a female mentor as I was determining my career path, and I think that would have been really helpful," Surette says. "The men I work with push me to be the best version of an advisor I can be. But at the same time, it would be nice to have someone I can relate to female-to-female," she says. "Maybe that is something I can do for somebody else in the future."
While Surette is often the only woman at the table, she has learned that her perspective is unique and valuable.
"As a woman in a male-dominated field, I do have a different perspective. It doesn't mean it's any less valid or important," she says. Surette has made a point of speaking up more and not being afraid to highlight her successes. Coaching dance has helped her build that confidence and refine her leadership skills.
"In coaching, you have no choice but to step up and be a leader, so that has made me more comfortable and confident in the work environment as well," Surette says.
Her confidence has also grown knowing that she can connect with some clients on another level as a woman.
"Representation is so important. A lot more women are taking charge of their financial lives," Surette says. "I've been in meetings with clients where they've said to me: 'It's so great to be able to meet with an educated, confident, strong woman,' and that means a lot to me. So I do know there are some women searching for female advisors, and you won't find that at every firm."
Surette thinks a lot can be done to attract more women to financial planning—like expanding financial planning programs at colleges, raising awareness of the career path for students, putting a greater emphasis on recruiting women for roles in the industry, and creating more mentorship opportunities. With more representation, women will naturally be more encouraged to pursue careers in the field.
"A lot of the women-dominated fields are built around helping people and person-to-person communication," Surette says. "I meet with clients every day and I'm able to help them with major life decisions. Nothing beats when you tell them, 'You can retire,' and you just see the relief on their face. Or, it's so rewarding to be able to hold their hands through a difficult transition, where there are so many financial decisions that can be a big burden, and give them that peace of mind."
"I didn't realize when I was considering different careers that financial planning is so much of that. The more we can communicate that, the more women we'll attract to our industry."