Brittan Leiser
A Savvier Approach to Financial Advising
How Brittan Leiser Does Her Part to Empower Clients and Young Women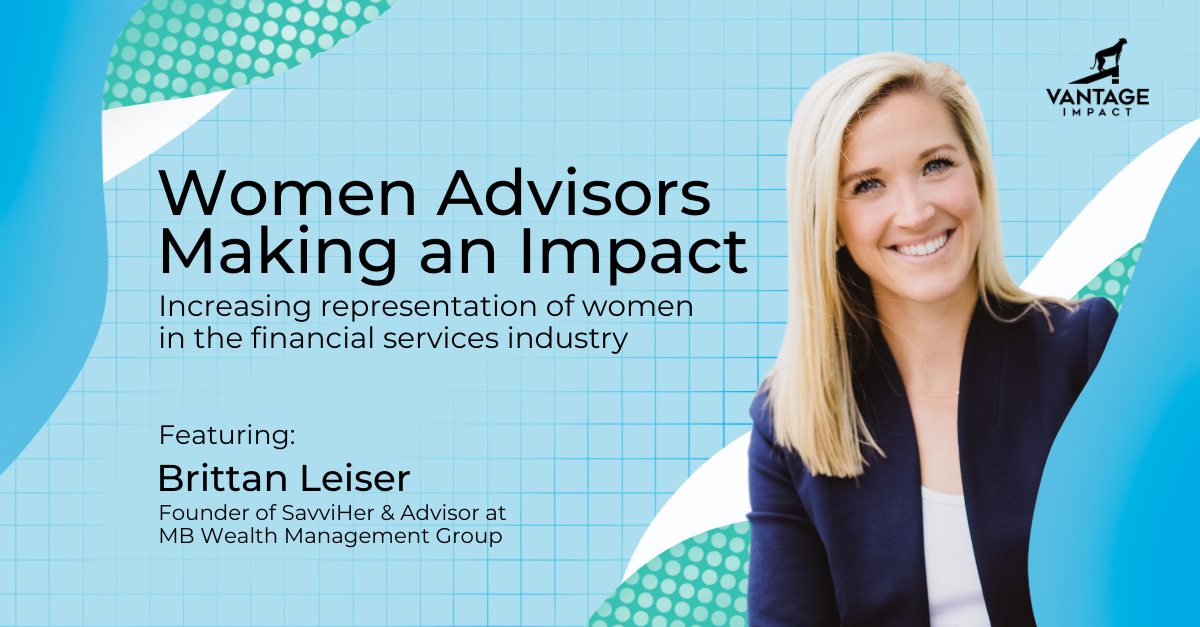 When Brittan Leiser was in college, a few finance professors gave her advice. It was 2008.
"If you want to be in finance, come back to it, but given everything going on in that space, now is a fantastic time to pursue other opportunities," they told her, referring to the financial crisis of the time.
Leiser took the advice to heart. She had done some consulting work for Target Corporation as a student at the University of Notre Dame, so it was a natural transition for her to take a position at the company's headquarters in Minneapolis, MN, after graduation.
"It was a great place to launch a career, and I knew I'd get a lot of exposure to making key decisions at such a young age," Leiser says.
Ultimately, her chosen career path gave Leiser an opportunity to experience corporate culture and better understand the executives she'd eventually serve as a financial advisor.
"Had I started in the financial space, I don't know that I would have had the opportunity to gather so much context," Leiser reflects. "A lot of my clients are female executives, so I had a chance to see first-hand the fact that they don't have time to manage [their financial decisions]. They're time-strapped; they have a lot of different priorities, a lot of commitments."
Leiser began nurturing relationships within her network, and it was like doing homework to prepare for the next phase of her career. She spent time learning what financial challenges these women were facing, and how as a financial advisor she would be able to help solve them.
In 2016, she decided it was time to pivot to what she wanted to do long term, so she moved back to her hometown of Chagrin Falls, OH, to start her practice. Not only did becoming a financial advisor fulfill her professional aspirations, but it offered her the flexibility she wanted for the next stage of her life. She could build her own business while also starting a family.
"It's a very nice career for individuals who are looking to do that," she explains.
Leiser set to work growing her client base. Starting with her personal network from growing up in the area, she asked for meetings with anyone she could think of and also worked on gaining referrals from them.
"It's always going to be a challenge for somebody who's starting out in a new field. You have to pave your own way, no one's going to hand you a book of business. Being independent, you have to market yourself, you can't rely on a big name brand to bring in walk-in traffic and those kinds of things," she explains.
Her networking strategy was fruitful, but being a woman in the industry did present some challenges. Some potential clients scrutinized her qualifications and questioned her experience in the field.
"You don't see too many women doing this, so the natural tendency [for some people] is to wonder 'why?' or if they can cut it," Leiser says, but she keeps things in perspective.
"For me, it was important to remember that you're going to see that in any space, so I just didn't take it personally and focused on what I can control which is building my own brand, being true to who I am, and making sure I can carry forward the same experience for each client that I work with," she says.
Anyone who sets out to have a career in financial advising and completes the required coursework and certifications can be competent in the math and science aspect of financial advising, Leiser says. Where women excel is in their ability to build relationships and ask the right questions in a thoughtful way, helping clients feel empowered.
Since the pandemic, her growth strategy has shifted from focusing on prospects solely in her community to a broader pool of potential clients across the country, taking advantage of virtual meetings.
"It's interesting, because a lot of people have used the past two years to reevaluate their priorities or their work lifestyle," Leiser says, alluding to the many people who left the workforce during the pandemic. "For me, I really took it upon myself to push the gas pedal a little bit, recognizing that this is a unique time where individuals are not traveling, they're less busy, perhaps they're more receptive to a conversational coffee and just a chance to connect and learn more."
People also had a lot of uncertainty about the market, she remembers, so she offered to be a sounding board for individuals who had worries, questions, or wanted a second opinion about advice they had been given. "People really appreciated the chance to be vulnerable, ask questions, and just have somebody to lean on at that moment," she says.
Those conversations often dovetailed nicely into her prospects asking her to look more closely at their personal finances, she explains. Expanding her reach has been a main source of growth over the past few years; creating SavviHer has been another.
SavviHer (financiallysavviher.com) is Leiser's passion project, a company she initially founded as a way to share personal finance concepts, educational content, and resources with other women. "I began to notice pretty early in my career that my clients were successful, smart, wonderful women, but they had questions. And they weren't always comfortable asking those questions," Leiser says. Oftentimes they wanted book or podcast recommendations covering financial topics.
She remembers thinking, "I know the answers. I keep hearing these same questions, I may as well put it together in the form of a newsletter or a blog, and just make this information public." So she did that, first creating a website and social media presence called SavviHer.
Today, she not only publishes free resources, but also offers online financial education courses and hosts workshops at high schools and colleges, helping younger women take that initial step in feeling more confident about their personal finances.
"It's been a fantastic way for me to demonstrate my passion for the industry and help others learn what they maybe didn't in school—that's missing from our curriculum."
Mentorship has also been a goal of the program, introducing young women to what a career in finance can look like. "Part of what I'm doing is trying to give them exposure to consider this field, ask questions, to think about being entrepreneurial with it, and really harnessing their strengths in a different way," she says.
While she opted to begin her career in business, exposure to financial advising came early on: her father is a financial advisor. Leiser says she learned from watching him over the years how an advisor should nurture relationships and always put clients first. "It's way more about building a long-term relationship than it is about making a transaction," she says, and his influence has impacted how she runs her practice today.
Her philosophy for work-life balance has been shaped by women she looks up to, many of whom she knows from the time she spent working in the corporate world, who she saw raising families while leading teams at a major corporation.
"Do something worthwhile; find something you're passionate about and stay true to who you are," they have told her. Leiser knows finding the right balance between her career and her family is challenging but important.
One of the things she loves about her career is that she is in control. She is only as successful as the relationships she has, and the effort she puts into marketing herself by going out into the community. "You make it what you want it to be," she explains.
Looking back over the past few years, Leiser reflects that the pandemic has been an opportunity to showcase how important financial advising is and the role a financial advisor plays in empowering clients to make decisions.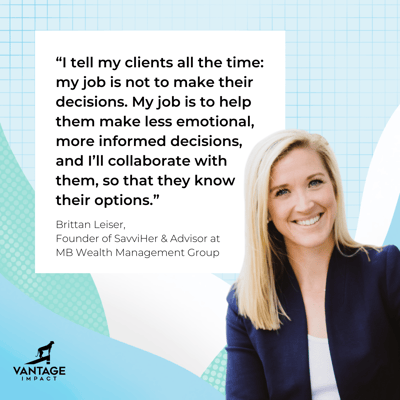 "When times are a little rocky or volatile, that's when it's important to have somebody who's on your side and helping you navigate these waters," she says. "I tell my clients all the time: my job is not to make their decisions. My job is to help them make less emotional, more informed decisions, and I'll collaborate with them, so that they know their options."
While her young children take up a lot of her focus today, she knows there is an opportunity to accelerate the impact of her practice as well as SavviHer—when they get a bit older.
"I do think there is a lot of value that I can specifically bring," she says. "I love what I do, and I'm very encouraged by the success I've had to date, so I'm really excited to hit the ground running even more so when life opens up a bit more for me."
Additionally, she would love to see SavviHer's presence evolve into women's finance clubs in high schools and colleges—forums where young women can continue having these conversations, bounce ideas off one another, and explore financial advising as a career path. She has gained so much from the opportunity to visit schools to give presentations and talks to empower young women.
"That's really rewarding work that keeps me motivated," Leiser says.