Brooklyn Brock
Blazing Her Own Trail
How Brooklyn Brock Created A One-Of-A-Kind Firm To Help Fellow Advisors With Their Financial Planning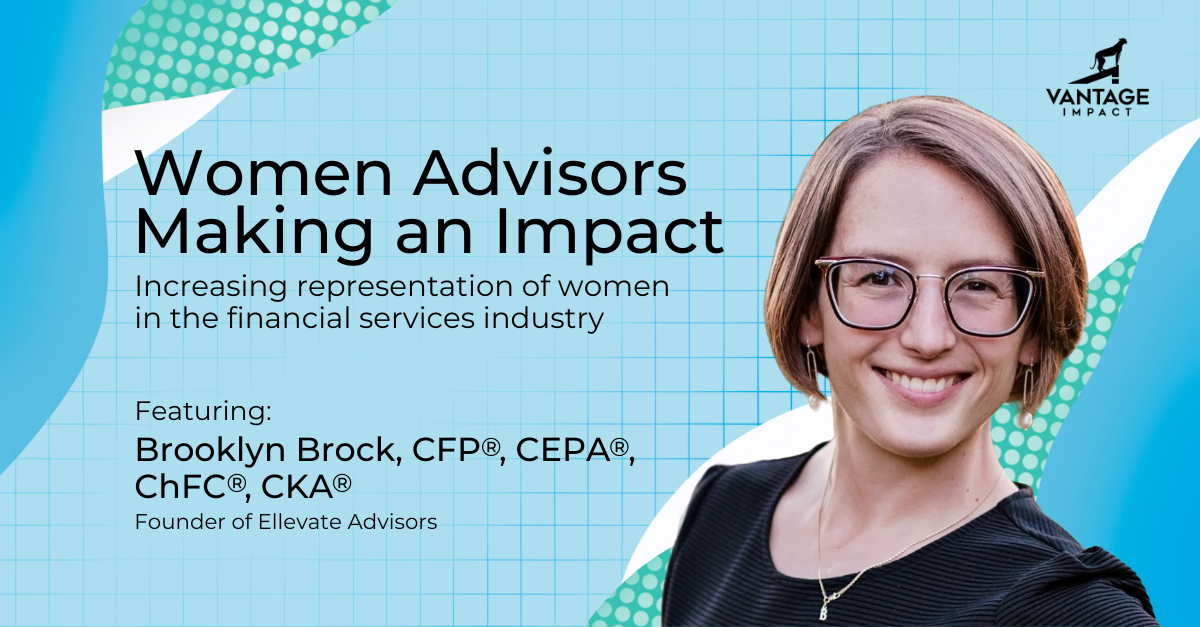 As a third-generation financial advisor, Brooklyn Brock, CFP®, CEPA®, ChFC®, CKA®, knows better than most that advisors need help with financial planning for themselves, too. That's why she created Ellevate Advisors, which offers financial planning and exit coaching exclusively for advisors.
Brock believes it is essential for advisors to have an objective professional overseeing their personal financial plan. The first client she advised had drastically underestimated the value of her business, which made it look like she was not on track for retirement. This created feelings of guilt and shame that even impacted her company finance decisions, until they updated the value of her business to be realistic but still conservative.
"That example paints a picture of the objectivity needed to produce an accurate financial plan," says Brock, who markets herself as the only financial planner who works exclusively with advisors. "When advisors know what they're doing, they also know the corners they can cut to make it work, and it may not be quite realistic," she explains.
Brock has seen first-hand that if advisors are doing their own family's financial plan, they may not ever find time to update the plan, and if they do, the mindset of cutting corners could potentially put their spouse and kids at risk. "It's not a healthy way to handle money when you're in a relationship, so a lot of advisors will bring me into the conversation."
The idea to go out on her own and serve other financial advisors came to Brock in 2019, when she was in St. Louis at the XYPN Live conference. At the time, she had just passed the CERTIFIED FINANCIAL PLANNER™ exam and left her job of five years, as an advisor at her family's firm, where her father, uncle, and grandfather all worked. She knew she wanted to branch off from what she knew, but wasn't sure where to focus her talents.
At the conference, Michael Kitces, the founder of the XY Planning Network and head of the Nerd's Eye View blog, gave an Ask Me Anything question and answer session where he said that the firm he'd want to start would be for fellow advisors.
"And I looked around to all of my friends and family, all my connections on the board of the Tulsa Financial Planning Association — everyone I know is an advisor," Brock recalls. She has a passion to help advisors because of her family's story and understands the mindsets and pain points of advisors so it felt like a natural niche.
Inspired, Brock launched Ellevate Advisors in 2020, after passing the CFP® exam. But she wasn't without doubt as she made the transition from her established family firm to working on her own.
"I did some research and no one else is doing this. I am the only one in the entire world, which is crazy to think about," she says. "And I was like, well, maybe that means that it's not going to be successful. Maybe other people have tried and failed. But I'm going to be crazy enough to try it myself."
Ellevate Advisors offers fee-only financial planning services, paraplanning, and exit and succession planning, and is part of the XY Planning Network. In addition to being a CERTIFIED FINANCIAL PLANNER™, Brock is also a Certified Exit Planning Advisor (CEPA®), a Chartered Financial Consultant (ChFC®), and a Certified Kingdom Advisor (CKA®), which indicates her values-based approach to advising.
Ellevate Advisors expanded their offerings to include the exit and succession planning to meet client needs, and recently added an acquisitions bootcamp for advisors looking to acquire or merge firms. The firm is singularly focused on providing planning support to financial advisors and ensuring exit planning receives the proper amount of strategizing.
Brock and her team pride themselves on focusing on more than money when they advise their clients.
"Many financial advisors see it more as the number crunching, and less of helping you figure out what makes you happy. And I think a lot of financial planning is actually that, helping clients find what makes them happy," Brock says. "I think the younger generation of advisors is leading with that as the value of financial planning."
Being an advisor who is also a young woman has its challenges. Brock says many of her fellow advisors told her she was crazy to create Ellevate for advisors only. "They would tell me, 'I cannot think of a single advisor who would hire you,'" she says.
"And I think it's because I am a young woman starting this niche, and the average advisor is an older white guy thinking, who am I to tell them what to do with their money?"
Undeterred, Brock has grown her business slowly and steadily, and with patience. She is committed to Ellevate for the long term, with plans to limit the number of households to 50.
"It's the advisors like me, who are entering the industry with a focus on life planning, who want work-life balance, who want to take parental leave, who are going to end up hiring me," Brock says.
Networking and speaking have become essential in growing her business. Brock served on the Tulsa Board of the Financial Planning Association (FPA) for five years, including one as president, and started an FPA NextGen chapter to support young advisors. Ellevate Advisors was named "Best Exit Coaching Firm for Advisors in the USA" by Wealth & Finance International. Supporting fellow young advisors and increasing diversity in the field is important to Brock, who says she is excited to help develop more young advisors who are women, and the overall diversity in the industry.
At Ellevate, three of the four employees are women of varying ages, and 50 percent of their clients are women. Brock's sister-in-law, who is Filipino, works as her executive assistant.
"It opens us up to be able to bring in more diverse people in the future, because we don't look like older white males, we look different," she says. "I also feel excited about helping women. Women advisors are the ones who are reaching out and wanting to hire me. There's something about women; we look at everything that's going on in our lives. We want to run our business, be financially successful, and raise children, and if we need to outsource financial planning, we're going to ask for help."
Brock, who has undergraduate degrees in international business, economics, and French from the University of Arkansas in Fayetteville, designed her firm to operate remotely to support her vision of living in France for part of each year. Last year, she and her husband worked remotely from Paris for two months, and someday hope to own property in France. And those are the kind of changes that she wants to enable for each of her clients.
"I feel like that's the most difficult thing, to find what you want and what is going to make you happy in your life and in business. So advisors who hire me are excited to take a step back from being in it 24/7, to look at their finances and say, 'Well, what do I actually want from my life?'" she says. "That's something that I'm doing in my own planning, and also in my business. And that can make a huge difference with how people run their life and their business, and how happy they are at the end of the day."