Cammy Smith
A Growth Mindset
How Cammy Smith Grew Her Financial Advisor Firm by Offering a Different Perspective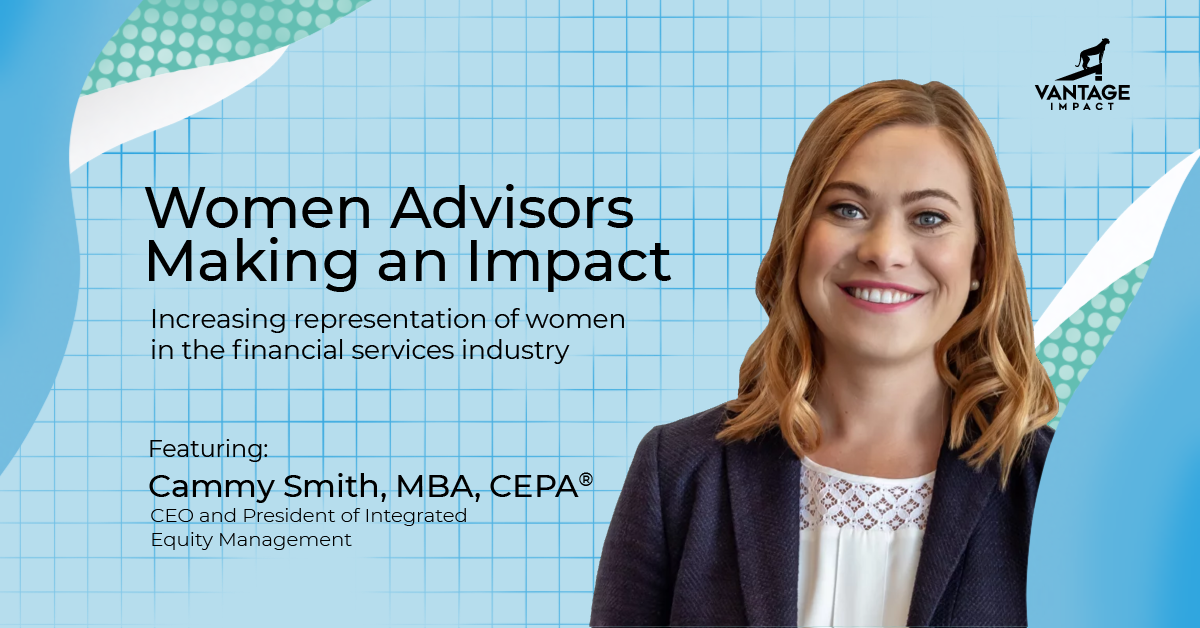 Camille (Cammy) Smith's interest in the financial advisor industry sparked while taking a walk with her father, Ted Smith, founder of the financial advisor firm Integrated Equity Management (IEM). Cammy had recently come home from a postgraduate exchange teaching English in Venezuela and was struggling with what to do next.
"I recognized in that experience that I love helping people, especially through education. I love making an impact, especially on results and on people. And I love math, and math loves me," Cammy says, and she expressed those passions to her dad.
"He told me, 'With those three things, you should try our business.'"
She decided to give it a shot and trained at an affiliate program before joining IEM. Starting her career during the credit crisis in the fall of 2007 was eye-opening. "It was terrible and incredible," Cammy remembers. She was responsible for fielding client phone calls, and on top of maintaining a spreadsheet and running trades down the hall, it was her job to listen and learn what was important to clients during that uncertain era. Over time, she learned the business.
Cammy brought a fresh perspective to the firm and earned the partners' trust by speaking up and sharing her ideas for change. At the same time, she yearned for greater challenges within the business. She took time off to complete a full-time international MBA program in Spain, returning to the firm with refined skills, a desire to absorb some of her father's workload, and the drive to lead the firm through growth.
Ted's goal was to build a legacy for their clients, so they set on the path to do so with Cammy leading operations. They invested in technology and contemplated how to marry their traditional values with a modern client experience. The solo practice was also shifted into an ensemble, and today they are a multi-ensemble firm that continues to grow.
"Part of our journey was also making the decision to go fully independent, to make sure that we could be on a fiduciary platform with no conflicts of interest and no proprietary stance," Cammy explains. IEM joined the Commonwealth Financial Network platform during this time.
After completing that process, they realized they could compound their impact and help other firms do the same, so they launched a second business line: Integrated Equity Management Partners (IEMP).
IEMP is a boutique affiliation solution for advisors looking to run an independent practice without all the headaches. This supported independence model allows firms to tap into the Commonwealth platform and get additional day-to-day support from IEM, while maintaining ownership of their clients and all their data.
"What we know about a lot of advisors is that they're great practitioners—they love to build relationships with clients and advise them. But thinking about running a payroll, or doing a payroll audit, it's probably not their thing," Cammy explains. That's where IEMP comes in, serving as their infrastructure behind the scenes and partnering with them on needs like technology (workflows on the Commonwealth system), marketing execution, handling leases, hiring staff, running payroll, paraplanning, investment management (if desired), and providing access to benefits.
"Helping these advisors do the right thing for their clients in terms of a fiduciary standpoint, but also own their practice and become entrepreneurs is just so fulfilling to me," Cammy says.
About five years since committing to their growth efforts, IEM is seeing client satisfaction at an all-time high, with a 99.8% client retention rate. They've tripled the size of their team as well as their business value and increased their commitment to giving back to the community. Not only have they donated about 10% of profits to non-profit organizations, IEM's give-back efforts also include having a dedicated philanthropy coordinator on staff, team and individual paid volunteer days, and employer matching for individual charitable donations.
With goals met and IEM on track for continued success, Ted formally passed the torch to Cammy in January 2021. Cammy is now President and CEO, and Ted remains in a leadership role as Chairman and Founder.
While Cammy has driven the growth of IEM over the past 15 years, it's surprising to her that the number of women in the financial advisor space has remained stagnant over the same time period. According to Cammy, many women in the industry are looking for flexibility, culture changes (such as inclusive language usage), results-oriented compensation, and the ability to work as a team—which all exist in the space—but awareness of these benefits is low. She also says there's a huge opportunity for women to partner with older advisors on succession plans, helping them to exit and retire.
"How do we attract and retain female advisors? They're so critical to helping people through advice-based relationships," Cammy says. She acknowledges outside of finance or business courses, many women aren't exposed to financial advising as a career option and don't know that it could be interesting and relevant.
"What can we do to impact younger women along the way, to let them know that this could be a viable career option?" Cammy wonders. "You don't have to be obsessed with math, you can actually be an advisor and really be fulfilled with the relationships."
"I look at the composition of our team, and people have come from different backgrounds—communications, social work—some incredible backgrounds that aren't necessarily those traditional courses," Cammy says.
Hiring women and others with diverse backgrounds adds so much to the organization. "We're always trying to find people with different diverse experiences that are centered around [our clients first always] values," she says, "It makes it a richer experience, and it's also forward-looking to know we might be able to attract and do business in different markets."
In addition to exposing more women to the idea of being a financial advisor, firms need more than just advisors, Cammy says. "It's like what we learned from Microsoft back in the 1980s—you can't have a company full of just engineers, right? So if we can all play to our strengths, then we can really count on that impact—more than what one person or two people can do on their own."
To that point, through her strategic growth expertise, Cammy is able to make a bigger impact at IEM than if she was solely an advisor.
"One of the things I missed [about the career] when I was younger was that the path seemed to be very narrow for me," Cammy says, but now she knows there are many different places you can take the profession and the career, such as management or executive leadership, a hybrid of the two, or a different element of the business, based on skills. "Keeping one's mind open to that is really key."
Cammy is proud of the career she's grown into. "Being entrusted with somebody's finances is a very honorable profession. When it's done in the right way, it's a positive change in the world," she says, and that by helping clients solve their goals, she has gained a lot.
"It's an opportunity to learn so much about life, people, and having a growth mindset," Cammy says. "That's what we get in return."