Catherine Allen-Carlozo
Collaboration is Key
How Catherine Allen-Carlozo is Changing the Conversation About Women's Financial Planning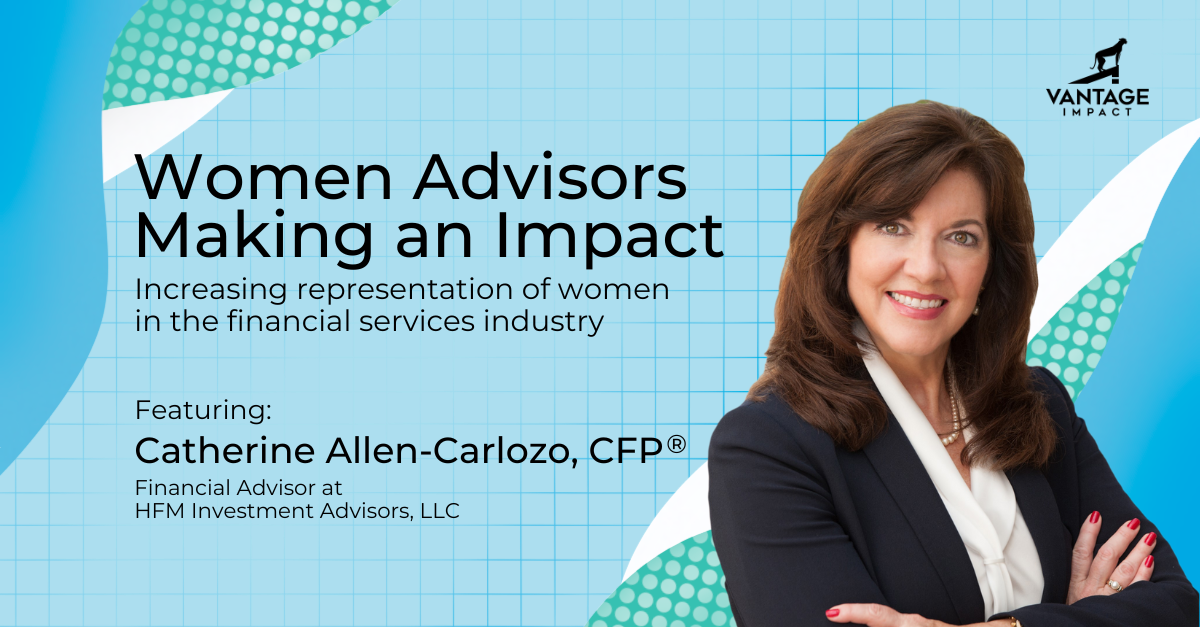 When Catherine Allen-Carlozo worked as an assistant at Merrill Lynch in the '80s, she was always the first to answer the phone.
"I would do whatever I could to help the advisor, and to see what I could do to help the client calling and not push the call over to someone else. And I was realizing that clients would call me versus the advisors, whether it was for advice or just doing trades for them," Allen-Carlozo says. "And then I had the thought, geez, if they can do this, I could do this!"
She already had a Series 7 certification to make stock trades, so she decided to interview to become an advisor at Merrill Lynch, where she went on to work for 15 years. Today, Allen-Carlozo is a financial advisor at HFM Investment Advisors, LLC, in Glassboro, NJ, and specializes in helping women take control of their financial futures.
Over her 30-year career in financial planning and asset management, Allen-Carlozo has always focused on building trust and relationships with her clients. It is about "listening intently," she says, and — almost — being a little nosy.
"We need to know everything about a person. Just like a doctor can't help you if you don't say that you're having chest pains," she says. "One thing I've gotten better at is making sure that I really do understand what my clients' concerns are, what the issues are and digging as deep as I can. It's not necessarily, well, I'm a financial planner so we are only going to talk about your money. Tell me about your dreams, your aspirations, your goals. Financial planning is a tool to make them happen. I call it being a fiscal philosopher."
And her clients appreciate this approach, she says, citing one who has praised her over the years for what he referred to as "stick-to-it-iveness." It's something Allen-Carlozo thinks she comes by naturally.
"I've learned that, whatever it is, I'll figure it out. And I want to, because I always want to learn and I'm curious, and I never want to drop the ball for people," she says. "That was building trust and confidence with the clients."
Allen-Carlozo, who has a bachelor's degree in finance from Rider University, became a CERTIFIED FINANCIAL PLANNER™ professional in 2006, and decided to build her business as an independent advisor after stints at Wells Fargo and Fidelity.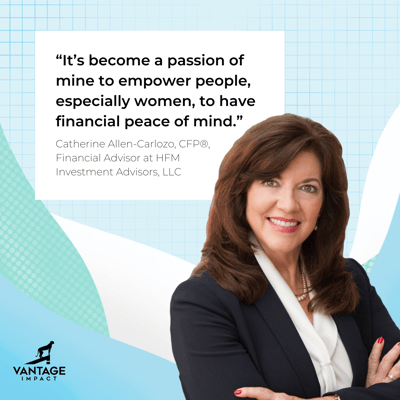 "I went from being a stockbroker to a financial advisor to really working with people on their overall financial health," she says. "It's become a passion of mine to empower people, especially women, to have financial peace of mind."
She takes a collaborative approach, and says she wants all of her clients to think, "Let me call Catherine," before making any financial decision, whether it be buying a new car, putting new hardwood floors in their house or starting their own business.
"We're a team," she says of her client relationships. She takes pride in building them—especially since in some parts of her career, there was no relationship-building, she says.
That's why she went out on her own as an advisor, first working with LPL Financial. She found the work at the corporations revolved around sales or product commissions, which didn't leave a lot of time to spend with her clients.
She specializes in helping women in transition, including widows, divorcées, and those re-joining or retiring from the workplace.
"I started focusing on how to change the conversation for women. Because in our industry, a lot of times we talk about the performance of your portfolio or what the markets are doing, but that is not necessarily the conversation that women want to hear," she says. "There's a lot more a woman is concerned about, whether it's leaving a legacy, that she is going to be OK, can she redo the kitchen. And I found that for women, we work better together collaboratively."
So in that spirit of collaboration, Allen-Carlozo focuses on educating all her clients, but especially women, so they can be empowered in their financial decision making.
"Women also have a lot of financial challenges that are unique, that men don't have," she says. "The fact that we live longer, we're the caregivers, leaving work to be a caregiver or to have children and not putting money into Social Security or retirement benefits. So it just became, how do I encompass all this as part of what I do for a living? And I do it with that love and passion that I have now."
During her three-decade career in financial advising, Allen-Carlozo has navigated a few transitions of her own. Back in her days at Merrill Lynch, she worked with a partner with the intention of taking over his clients when he retired, but the plan fell through. In 2018, she joined the team at HFM, bringing all her LPL Financial clients with her.
At the time, it was stressful, she recalls: "I was 58 and I'm thinking, why am I trying to change anything now, at my age? I just kept saying to myself, are they really going to come with me? And they did, because it is about the relationship, not the firm. I went through all the stress of wondering, and they said, 'We're moving [to HFM] because you're moving.'"
The time that Allen-Carlozo has spent genuinely connecting with and getting to know her clients over the years paid off during the transition, and now that's the approach that she passes on to the younger advisors and interns in the office at HFM.
"A lot of mentoring is just trying to keep them encouraged. I want them to learn how to build the relationship, and the trust, and the competence," she says. "I never really had a mentor, which to me, was very detrimental in our business. And because of that, I'm big on mentoring, whether it's younger guys or younger women."
She also spends time on the speaker circuit, presenting to female audiences about the unique financial challenges women face and how to create positive beliefs about money and take control of their financial future.
"For me, there is no purpose in what I do if I don't have that relationship, and if I'm not sincerely trying to help our clients, and particularly women, to make sure that they are educated," says Allen-Carlozo.