Dana Wilson
Disrupting the Status Quo
How Dana Wilson inspires the next generation by reinventing what financial advising looks like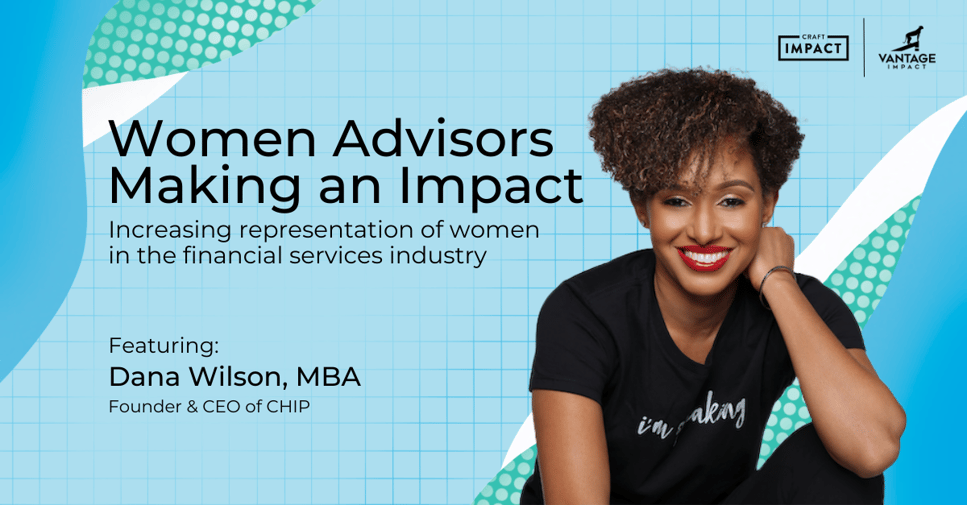 One thing that's apparent very quickly when you meet Dana Wilson is her innate desire to grow, learn, and progress in everything she does. She doesn't get too comfortable, always thinking about what's next.
A business major at North Carolina Central University, an HBCU in Durham, NC, Wilson was drawn toward marketing, but was convinced to give a role as a loan officer with SunTrust a shot. It's a tale as old as time. "I thought, 'I'll take this for now.' And 'for now' has been, like, 16 years later," she laughs. "I feel like I've just kind of reinvented every space I've been in in the industry since then."
Reinvention is an excellent word to associate with Wilson. She has legitimately put her own spin on every role she's had, not settling for the job description she signed on to. While working in the bank, the tangential exposure to investment and wealth management made her curious. She wanted a closer look, so she ordered some books from Amazon (back when Amazon only sold books!) to educate herself on different aspects of financial services. Taking that initiative gave her a sense of clarity around her path forward.
"I think we all get to certain points of our career where we feel somewhat stuck, or we know that we want more," she explains. "For me, I just would kind of lean a little bit more into those moments, feeling like, okay, this is great. I feel like I've learned everything there is to learn in this particular role, and I don't have an interest [in continuing] on the traditional bank path." And so, she pivoted for the first time, moving into an investment management role within SunTrust.
A few years later, she was given a new opportunity to help build a State Farm Insurance agency from scratch.
"That's where I really got that entrepreneurial bug," Wilson says. Her eyes were opened to all the various pieces of the puzzle that go into building, running, and scaling a business. "From the build out of the building, to then building up a business, to us bringing in clientele, to hiring teams. I just could not let that feeling go—of this build. Yes, it was like this slow-fast, you know, hard in some moments, but it's amazing to watch the evolution of something that you have your hand in really come to life," she says. "I couldn't really shake that."
Her focus shifted to the future: "So being able to kind of figure out, how do I bridge this amazing feeling that I'm having from an entrepreneurial perspective into what I am really interested in, which is the investment side of things?"
Shortly after this realization, Wilson moved back to the NYC metropolitan area in her home state of New Jersey. She gained experience working at large and mid-sized firms before founding an independent advisory with a partner. Eventually she took over the practice as the sole business owner.
"It's something else to run a practice. It's definitely an entire business, and you're scaling and you're working with clients, and you're working with families. You're not only watching the evolution of your practice grow, and you grow as an entrepreneur and a business owner, but also your clients, because they're growing with you," Wilson explains. She talked about one client in particular who was single when she started working with her. Now she is married with two kids, and has very different investment goals.
"It's such a beautiful thing to work with people in that way," she says. "It just becomes this amazing family that you create within your business.
Wilson has found a lot of joy in being able to take something she's deeply interested in, like finance, and help someone improve their life. But she also started to consider the bigger picture.
"I think [my view] of the world became a lot larger than just myself, my practice. It was more of…what is the industry doing?"
She talks about attending conferences, and after more than 10 years in the business, still often being the only Black woman in the room.
"I knew that my story is not only one story, right?" she says. "Whether you're a woman, whether you consider yourself someone who is multicultural, you've had different types of experiences. I wanted to be able to bring a place together where we can not only share in those experiences, but ensure that consumers also knew that we really existed."
Leaning into this problem fueled a new passion and desire to solve it. She asked herself, "What does that mean?...What does that look like? And that's really kind of how CHIP was born."
The mission of CHIP (Changing How Individuals Prosper) is to bridge the gap between consumers of financial products and financial professionals of color while ensuring increased visibility of Black, Hispanic & Latinx professionals to help close the racial wealth gap in America. Through this community, Dana wants people to feel seen and heard regarding their money.
"It's sad that in a lot of our communities, especially Black and Brown communities, we keep continuously hearing about these stories: someone didn't have an advisor or someone didn't have a will…and the family is either struggling trying to figure out something, or there's this massive amount of wealth that is held up in a court because someone didn't just do a double check that you have this in place," Wilson says. She wants to ensure people in those situations have a network of financial professionals they can trust.
Financial professionals must apply to become a CHIP Certified Pro, and once approved, are connected to individuals and families through the platform. But, it does more than help consumers get access to an advisor they can trust. The CHIP platform also gives financial professionals the space to grow their practices, offering its members education, brand consulting, networking opportunities, speaking opportunities, a corporate wellness program, and more.
As if scaling CHIP isn't enough to keep Dana on her toes, she continues to do workplace culture consulting and various speaking engagements, services she promotes on her website, Dana Disrupts. She has a podcast, The Included Series, and a quarterly publication, The Brief. On top of that, she will graduate this spring with her Executive MBA from Penn State University (no small footnote).
With this resume, it's no wonder Dana continues to be recognized in the industry and honored for her successes. The impact she's making isn't lost on her.
"I think the most important part is people seeing me," she says. "And just the same way I would see other people win awards and believe that, hey, I could do that one day too. And that's the first step of it, right?
"It's someone seeing themselves somewhere and knowing that, hey, I can do that thing because she did that thing," Wilson adds. "For me, it's like, I could do that thing because I saw Lazetta Rainey Braxton do that thing, right? And when you see people step outside themselves, and have those give backs, it gives you more energy and empowerment to know that you can also stand on their shoulders.
"You can stand on your own, [you can] put other people on your shoulders and it's just like a, you know, a continuous effect that happens for generations…it's a beautiful thing."