Danielle Harrison
Knowledge Is Power
How Danielle Harrison turned a childhood fascination with money and finances into a thriving advising business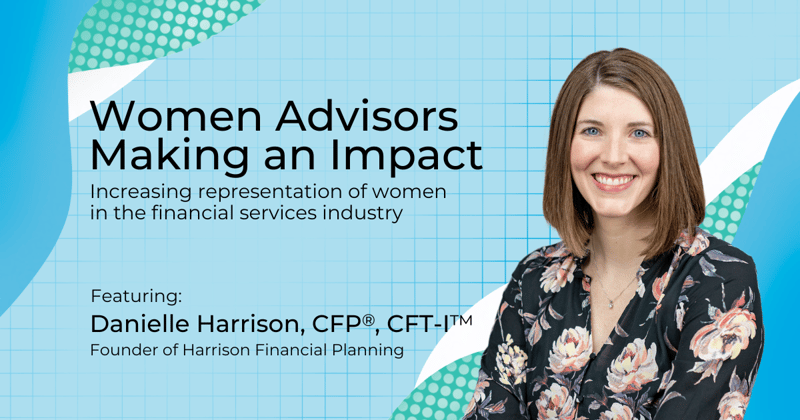 As the founder of Harrison Financial Planning, Danielle Harrison, MBA, CFP®, CFT-I™ is one of just a handful of fee-only financial planners in central Missouri—and being woman-owned sets her further apart. It's the kind of career she always envisioned for herself, but she took an indirect path to get there.
Growing up in Versailles, Missouri, Harrison first became interested in personal finance at a young age after learning about the magic of compound interest when she opened her first savings account. In middle school, instead of the typical teen magazines, she began reading magazines like Money and Kiplinger and in high school was very involved in organizations like Future Business Leaders of America (FBLA) and DECA. She went to Westminster College on a full academic scholarship, about an hour away in Fulton, to study economics and business administration, with plans to become a financial advisor.
While studying for her MBA at the University of Missouri, Harrison started interviewing for what she originally thought were financial planner positions, but she learned quickly they were commission-based sales jobs. During these interviews, the conversations were centered on who she knew, not what she knew. This emphasis on sales and the pressure to tap into her personal connections for clients was off-putting.
Harrison was disenchanted by these experiences and thought that, perhaps, she had misjudged the advising world and it wasn't for her after all. She ended up working as an assistant mortgage lender while she finished graduate school, and then for seven years as a commercial lender. There, she found an atmosphere where it was difficult to be taken seriously as a young woman.
"I was 22 when I started as a commercial lender. It's a tough game to play. I didn't have the natural connections especially when the majority of the business owners were older men," Harrison says. "Every year you had goals—I would meet them—but then you started all over again, and everything you did the past year was wiped clean. There was a lot of pressure, and frankly I did not see a lot of upward mobility, observing the few other female lenders who had been in the industry for decades. I couldn't imagine trying to stick it out like they had and fight to break through that thick glass ceiling when I wasn't even passionate about what I was doing."
That's when financial planning started calling to Harrison again. While on maternity leave with her first child, she spent time listening to financial planning podcasts and researching other opportunities in the field, particularly the fee-only advising structure.
"If I had known about all of the different options available within the financial planning industry when I was younger, my path would have looked very different. But because where I lived, there was not a lot of talk about fee-only planning," Harrison says. "What I found out is that there were a couple of opportunities where I was located, including within the bank that I already worked for."
She transitioned to an advising role within the wealth management department at the bank, knowing she eventually would like to open her own firm. Little did she know the time to branch out on her own would come so soon. A complicated merger and a desire to be a more present parent with her two young sons led to the launch of Harrison Financial Planning in January 2021.
She wasn't able to bring any clients with her due to non-solicit agreements in her previous job contract, and the country was in the middle of the COVID-19 pandemic.
"I started out with a big whopping zero, which was scary. Thinking, we are in the middle of a pandemic, I can't work with any of my past clients, how am I going to make this work?" Harrison recalls, but she built confidence in part through the support of her husband.
He told her, "Danielle, you've never failed at anything in your life, why is this going to be any different? It's going to be OK." Aligning their expectations around the business and their own financial discipline of historically saving approximately half of their incomes helped to relieve the pressure Danielle felt to get clients in the door on day one.
Harrison offers planning services on a fee-only basis and also consults with some clients for an hourly fee. This offering expands the reach of her services to folks who might not have the resources for ongoing advising, but could still benefit from a few planning sessions. She's grown her business from zero to 20 clients since she launched and worked with an additional 15 individuals and families last year providing hourly planning, relying on the personal connections she develops, saying you can't do financial planning without it.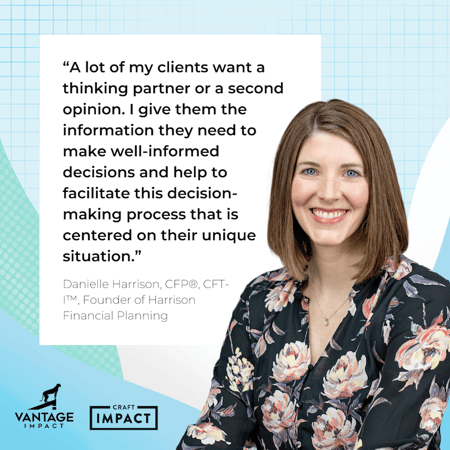 "For so long, the industry was solely focused on investments. I can't fathom how anyone attempts to provide financial advice without asking questions about what's going on in someone's life or really delve into what their value system is," Harrison says. In contrast to that more traditional approach, Harrison says, "A lot of my clients want a thinking partner or a second opinion. I give them the information they need to make well-informed decisions and help to facilitate this decision-making process that is centered on their unique situation."
The sales aspect that was so disenchanting early in her career has turned into a part of the job that Harrison enjoys now, because she is selling and marketing her business and ability to make a difference in clients' lives. "Unlike when I was a lender, I don't feel like a commodity anymore. It's not just about the best interest rate. I'm also not cold-calling or feeling pressured to sell products I don't feel comfortable with like I feel is still fairly rampant in the industry. I'm meeting with individuals who come to me because they hope I can in some way make their lives better. Whether that be helping them to define their goals and values and a plan to make them happen, providing accountability or less stress knowing they have someone handling everything for them, or merely working with someone they trust who can help them navigate all of life's ups and downs," she says.
Harrison is both a CERTIFIED FINANCIAL PLANNER™ professional and a certified financial therapist (CFT-I™), allowing her to help clients understand their behavior around money and where their tendencies might come from. In her own life, Harrison grew up in a family that was focused on saving, after both financial and medical hardships.
"My dad ended up getting cancer for the first time when I was in kindergarten. He got kicked off his health insurance and had to sell his business and all of its assets to pay for the medical bills. His continued health challenges, including three additional cancer diagnoses, never allowed him to return to work. We were living off a very meager salary for the family; my mom did not make much as the secretary of a small-town law firm and eventually had to quit her job to take care of my grandma who had late-stage Alzheimer's. She lived with us for seven years until physically and mentally my mom was no longer able to provide for her care," Harrison says. "Things were tight, but because of how my parents managed our funds, we had a nest egg and our house was paid off, so we were able to weather the storm. Because of this experience, at an early age I had the mindset that saving was extremely important because you never knew what life was going to throw at you."
Knowing that she could have entered the field sooner, if only she had been aware of all the options, motivates Harrison to give back to current students and other planners, especially women. She gives talks at Financial Planning Association events and local colleges about her journey to owning her own fee-only firm and regularly meets with aspiring financial planning firm owners.
"When I'm going into places like the University of Missouri and working with students, I want them to see everything that is available and to know that there are other options out there, not just firms that have high pressure sales cultures. I spend time with individuals to let them know what a great position in the financial planning industry can be," Harrison says. "And for women, you can create a business that works really well for your life. That is exactly what I am trying to do; I have two little boys and I wouldn't be able to spend the time with them that I do if I was at a typical eight-to-five job."
Not only does Harrison want to help increase the number of women in the advising industry, but she hopes to help increase diversity overall as she works with students and future advisors: "You're only going to have a stronger industry when it looks like the overall makeup of the nation. People like working with others that they can relate to; just like how I serve a lot of high-earning women, they feel comfortable coming to me. It's important for everyone to feel represented and truly heard by someone who has their best interest at heart."