Diana Yáñez
Balancing Passions
How Diana Yáñez used her passions and strengths to develop new ways of increasing financial literacy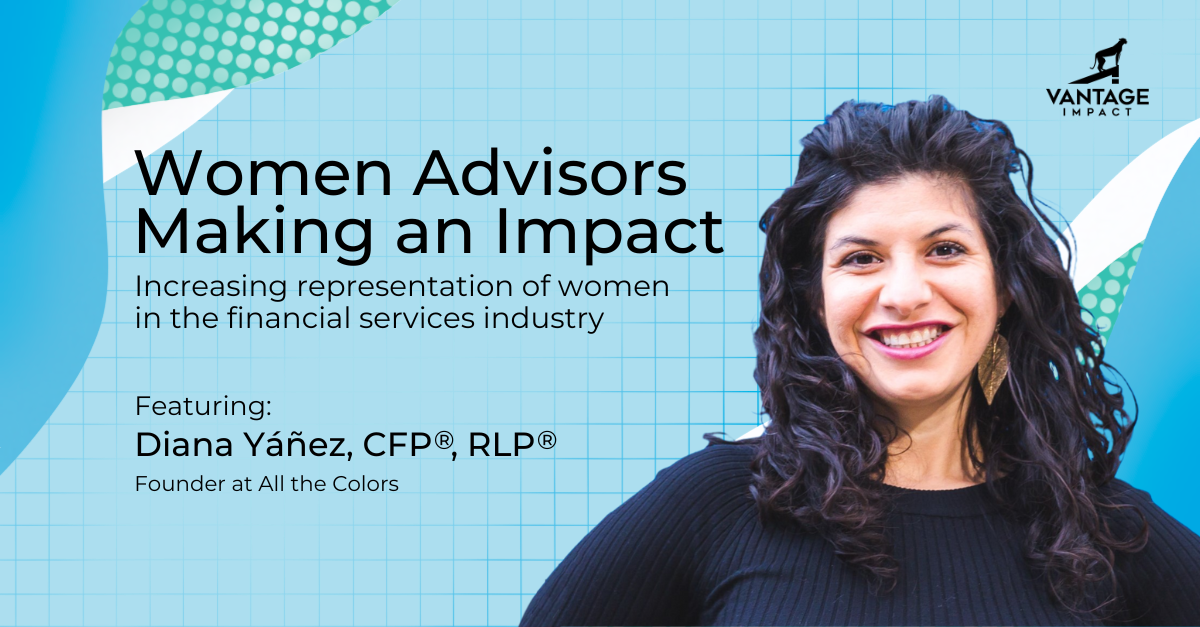 Diana Yáñez grew up biculturally – having been born in the U.S. to Mexican parents, and raised on the border. Through a stroke of fate, it was while following her passion for volunteer work that Diana was first introduced to the world of financial services.
Through volunteering, Diana met a CERTIFIED FINANCIAL PLANNER™ professional who gave her a brochure about financial planning. "The brochure read, 'Certified Financial Planning – a great career for women,'" Diana recalls.
Prior to this point, Diana had experience working with numbers at a broker-dealer, but it didn't feel like the right fit. "I wanted to make sure that I served my community," says Diana.
Pivoting into social work and later business analysis, it became clear to Diana that her ideal career would be one that melds her passions for working with people and numbers, while providing the opportunity for her to make the world a better place.
When she received the financial planning brochure from a fellow volunteer, Diana began to realize the huge helping component that is intrinsic to the financial planning profession.
"This is personally my favorite aspect of this profession," says Diana, "When I see peoples' shoulders relax – when they feel heard and accepted in this space." Diana wants her clients to know and feel that they can have an internal locus of control – with owning their agency to attain the joy that they want.
Diana began as an Associate Financial Planner at RTD Financial, an RIA based out of Philadelphia, working with high net worth individuals for over three years. Though she loved her work with this sect of the population, she sought the opportunity to serve her community and those with backgrounds similar to hers.
She knew there was an opportunity to help increase financial literacy as well as financial capability. This ties back to Diana's mindset that individuals should feel empowered to own their agency and stand up for themselves.
In March of 2020 Diana founded All the Colors, which focuses on community coaching – helping individuals cultivate the skills, knowledge and practices needed to confidently own their financial journeys and reach their monetary goals.
"I especially focus on historically oppressed identities, like BIPOC, women, LGBTQ+," says Diana, "because these groups are often not given the space to speak up, especially in money."
"It's the reason I'm creating this new way of providing service. As an industry, if we're trying to get people to fit into the existing mold, we're going to get the results we're getting right now where many people are not being served by the financial services industry."
All the Colors provides services in a handful of ways, including through a six-month community coaching program called Bosque Money. Community sessions, in cohorts of 8-12 people, focus on participants' money mindsets while introducing topics like cash flow and risk management.
All the Colors also offers traditional education information through vetted resources available on The Grove. The online community platform, complete with videos, past session recordings, articles and more, is designed to help people with ongoing learning and accountability.
As part of Bosque Money, participants also schedule a one-on-one session with Diana, during which she personally educates individuals on whatever financial changes they are making.
Diana firmly believes that individuals' money lives need to be sustainable, "I give people the tools, help them use them, and provide accountability. Having support along the way is what helps us develop new habits," says Diana.
All the Colors launched in March 2020, with Bosque Money kicking off in March 2022. Diana dedicates about three quarters of her time building her business, spending the remaining quarter of her time working as an Associate Wealth Advisor at Strategy Squad. Strategy Squad focuses on helping individuals and businesses bring social justice into their investments, and reach their financial goals through value-driven guidance.
Reflecting on mentorship in an industry where women and people of color are historically in the minority, Diana calls out the importance of finding, "mentors who you respect, and who will call out gaps in a supportive way."
Diana is committed to thinking creatively to address the diversity, equity and inclusion problem. She is thankful for great role models. "When you look at 40 under 40 that just got released by Investment News, Erica James is one of the people on there – she's a friend of mine, a Black woman from DC. Erica talked about how important it was to see other Black women on this list when she started and I completely agree. Representation is really important, as is creating new ways of providing service for historically underserved communities."
For women who may be interested in joining the field, Diana recommends they join the Financial Planning Association and other industry associations, and talk to as many people as they can. "There are a lot of ways that you can provide service in this field," says Diana, "just talk to people and you'll find your way."
"As a people person who loves numbers, I couldn't think of any other space where I'd want to work," says Diana. "I know this is the profession for me."