Inga Timmerman
Applied Academics:
How College Professor and Financial Planner Inga Timmerman Guides Individuals to Improve Their Finances, Lives, and Happiness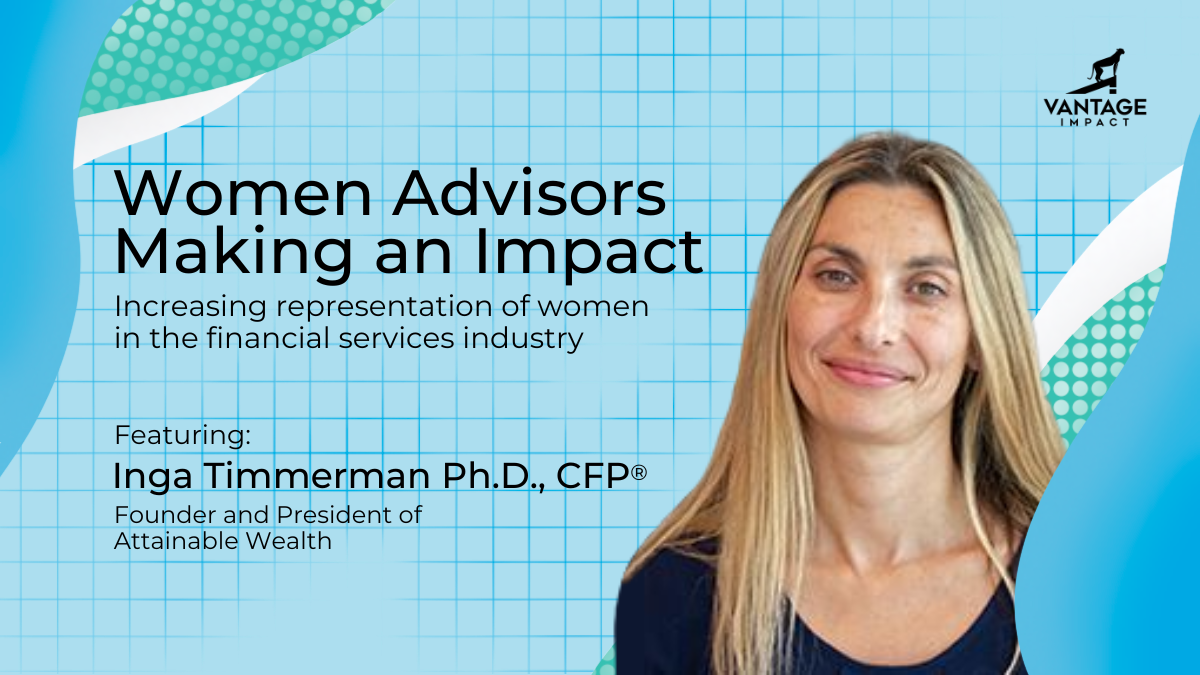 Coming to the U.S. in high school as an exchange student from Moldova, Inga Timmerman had not originally aspired to be a financial planner.
"I was on the investment banking, corporate side," says Inga.
Inga soon saw that the corporate finance industry regularly required 80-90 hours of work per week, and could be very political – with your experience largely dependent upon who your manager was and what was happening in the industry at any given moment.
"I wanted to control my time and my life, and financial planning is a way better path to do that, especially if you're a woman," says Inga. After about five years in the corporate finance world, Inga decided to earn her PhD in Finance and teach at the collegiate level.
"The first teaching job I got was at Oregon State University in the financial planning field. They hired me to develop the program and be in financial planning while I got my CFP® certification," says Inga.
What hooked Inga to teaching was the realization that it has the potential to change and improve peoples' lives. "I'm the interface between the student and the employer, and finding the perfect match between them really changes the outcome of how someone's life will go. I find that really rewarding."
The subject of financial planning also intrigued Inga. Having taught (but not yet practiced) personal financial planning, Inga considered how she could parlay her interests into the future of her career.
"I started realizing that even though all these [professors] have very sophisticated finance knowledge, they had very little knowledge on the personal finance side – myself included," says Inga.
Recognizing an opportunity to serve the academic community, Inga explored different firms ranging from large Wells Fargo groups to smaller RIAs, ultimately deciding that none would give her the ability to go part-time into financial planning while still teaching. It was then that she decided to open her own RIA – establishing Attainable Wealth in 2016.
At the onset, her niche with Attainable Wealth was other college professors and academics. "I realized all these really intelligent people with PhDs in rocket science have absolutely no idea how to allocate their 403(b)s. They're sitting on piles of cash missing out on big opportunities," says Inga, "Just reallocating someone's 403(b)s in their 30s will make a huge difference when they're 65."
As a college professor herself, Inga knew the popular blog forums frequented by college professors. To effectively target her niche, she offered to write guest blog posts about money and finance for those forums. "My first 10 clients come straight from there," says Inga.
Inga's planning philosophy with Attainable Wealth is centered around the idea that each individual has unique dreams and goals in life. She is committed to providing custom financial advice, educating her clients so they understand "all things money," and helping her clients gain complete control over their finances.
Nearly seven years later, Inga teaches finance and financial planning at University of North Florida in Jacksonville, while also running Attainable Wealth. She also authored "Mastering Money," a book designed to make complex topics more digestible and help college students and "youngish people" learn the basics of personal finance.
She has found that having a smaller lifestyle-type practice helps bolster her with the knowledge she needs to be able to continue teaching financial planning, while also allowing her to run her practice without the need to hire a subordinate.
Focused and driven, Inga is a planner by nature. When it comes to her dual careers, these traits have served her well. "It's super efficiency that works. When you have two jobs and two little kids, and a million things going on, you can't be dilly-dallying in the morning. My day is driven by the calendar. I have it planned in 30 minute increments and I stick to the plan."
A common thread between her two jobs is the ability to help others and make a difference in their lives. Her goal is to help people improve their finances, lives, and ultimately happiness.
Inga has found that being a woman in the field provides value for her clients. She shares that female clients, particularly divorcees, tend to select Inga because they feel more comfortable working with a woman. "Having the diversity to choose who you want to work with, to see someone like you, is very important," says Inga.
As a professor, Inga also serves as a role model for students aspiring to enter the field. "I've had a few conversations with female students, who told me it was life changing to see a few professors who are females – doing what they hope to do one day. Having this role model, and showing someone who's 19 that they can be just like me in 20 years, it gives them confidence," says Inga.
For students and other women looking to enter the field, Inga encourages taking as many short-term internships as possible, inviting people on LinkedIn for coffee, and attending conferences that have good specialized content.
Ultimately, Inga serves as both a teacher and coach – in her roles as a professor and financial planner.
"I strongly believe that by combining the desire to succeed with financial preparedness, you can build and live the life that you want."