Jaq Campbell
Building a Legacy
How Jacqueline Campbell Turned a High School Internship into a Career That Changes Lives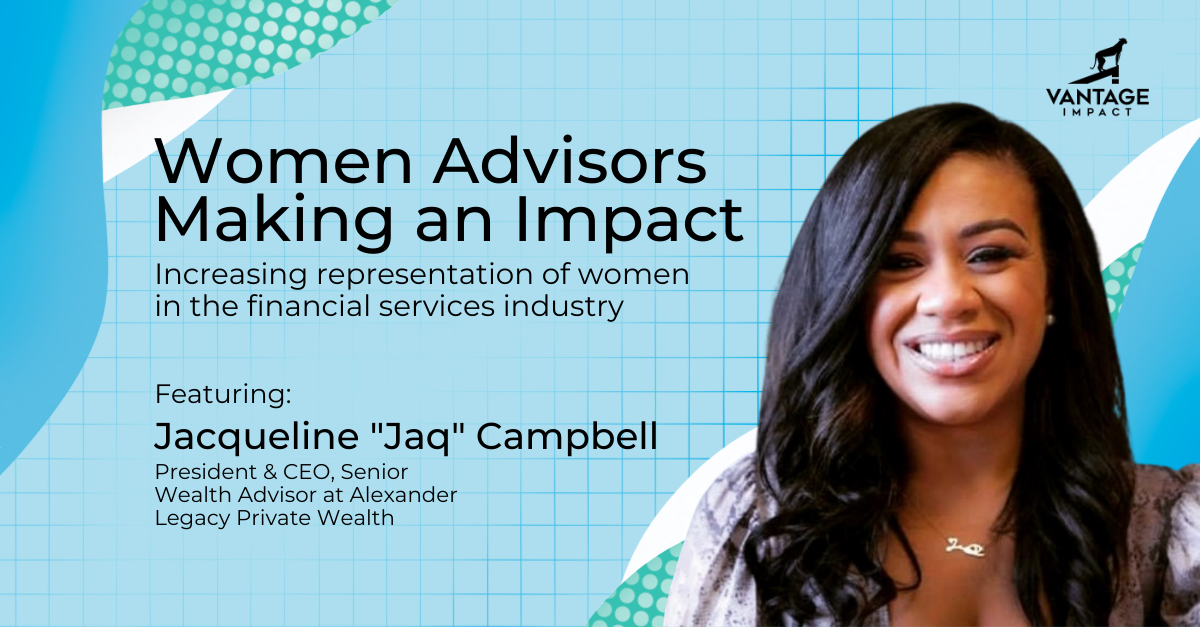 As a high school student, Jacqueline "Jaq" Campbell participated in a co-op, working at a bank for half of each school day. At the time, she valued the chance to be out of the classroom, not realizing a door had opened to a whole new world for her.
"Things are always so intentional if you just take a step back," she says in retrospect. Tasked with answering phones and filing paperwork in the trust department, she often overheard conversations and saw paperwork related to trusts and portfolios. Campbell started asking questions and learning what wealth management was all about.
"My 16-year-old self from Detroit, Michigan, had no clue about this industry, but it just happened to be that I landed this co-op job, and that immediately exposed me and immersed me in something that was going to change my life," she says.
When she graduated high school, Campbell saw an opportunity to pursue a career in banking and save money. She deferred college for a few years and worked full time at the bank, later taking advantage of the bank's college tuition reimbursement program.
She spent time managing a bank branch before shifting to a sales associate role in the investment banking division. She spent a lot of time with institutional and ultra high net worth clients, understanding how people and municipalities raise capital for their businesses and projects.
"Looking back, I think, that was a really cool experience to have at 21," she says with a smile. "I got a lot of education, really understanding (how capital is raised) as the foundation of my career."
In 2002, she pivoted to retail banking, seeing an opportunity to take what she had been learning and teach people in her community how to better manage their money and make investments to create wealth for their families.
"More people need access to this type of education so they can truly be set financially free and we can close this wealth gap," she says.
In 2004, Campbell took on a bigger challenge—launching investment services at Bank One's grocery store branches, which typically served retirees, single moms, and stay-at-home moms. Investment services had long been ignored at those locations, she says, but by training grocery store bankers to identify investors, they created a market share: "We turned that into a $20 million a month business."
Campbell continued in various wealth management roles from that time until 2018. Over the years, she took note of diversity challenges in the financial space.
"I saw a huge deficit in women and minorities entering into this business. As a matter of fact, I started to see more people exiting the business," Campbell recalls, so she decided to try and do something about it.
She wrote a letter to the CEO of JPMorgan, volunteering to lead a national effort to attract, retain, and grow diverse talent for the company—to be a champion for increasing diversity at the company.
"I got the job. I actually wrote the job description," she laughs. She worked in that capacity for about a year before deciding it was time to take a leap of faith.
"I knew at that time, if I was going to make a real, significant impact in this industry—by helping more women, more minorities and more young people get access [to financial advice], the best thing I was going to be able to do was to figure out how to do it myself," she says. "I decided to leave Corporate America after 27 years and start my own RIA."
Campbell faced unique challenges during this pivot. Not only was COVID approaching, but she was starting fresh—with no book of business, no team of advisors and no assets.
"I was betting 100 percent of the house on me," she says, noting it was a labor of love getting her doors open. She officially launched Alexander Legacy Private Wealth on April 11, 2021.
Looking back at her first year in business, she notes there were a lot of lessons learned. "What's exciting about those lessons learned is that you go back, explore who you really are, where your true heart and passion is. Once I got that down, referrals started coming out of the gate."
It became clear to her that she really excelled at identifying potential, training and developing young talent, and setting them on a path to success in the industry—she had been doing it well for years at JPMorgan. Continuing to grow the team is her top priority for her second year in business.
Her other goals for growth focus on acquiring business from older advisors looking for succession plans. "I'd like to be a place where as people decide to sunset and go into their full retirement, that they would consider our firm as a place to leave their legacy," she says.
Campbell recognizes that she faces unique challenges as a Black woman in the financial space, and that it's easy to get "imposter syndrome" despite nearly 30 years of experience. She reminds herself that she's not competing with her white male colleagues—she complements them within the space by offering clients a different perspective than they've seen in the past.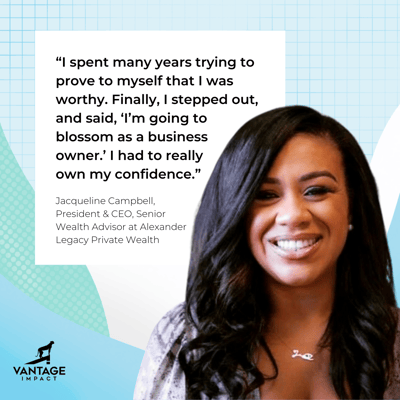 "I spent many years trying to prove to myself that I was worthy. Finally, I stepped out, and said, 'I'm going to blossom as a business owner.' I had to really own my confidence," she says.
Campbell says it can be intimidating asking potential clients to move their assets from a big firm to her new one, but she does so with confidence, charisma and courage.
"What keeps me inspired is I feel like I'm on a mission," she says. "This is bigger than just a job for me. This is a mission to help people create generational wealth, leave a legacy, close the wealth gap, take that burden and that stress financially and start to truly set up their family for the things we know our ancestors wanted for us but maybe didn't have access to."
In particular, she is passionate about serving women. She's witnessed clients who experience a life change like divorce and are navigating finances for the first time in their lives, recognizing how scary that can be for them.
"Women have to support other women. We have to lift each other up," she says. "We need to make sure we're surrounded by people who care about us, especially dealing with our finances—it's so critical.
"Some women can't leave a relationship even if there is domestic violence—they can't leave because they don't know how to deal with their money. They don't know if they would be on the streets. So I am very invested in helping women."
She regularly serves as a resource to women-focused groups, participating in Zoom conferences, round tables and other discussions to provide advice and stress the importance of building a legacy.
"That is my passion, to see women get the expertise they need to be sound in their financial decisions, but also to feel that independence and confidence about their money."
Looking toward the future, she's committed to continuing to develop young advisors, so they can make financial advice available to a new generation. She's even launched an apprenticeship program in Detroit to introduce young people to careers in the financial space.
"I believe so much in what we do, that nobody can tell me otherwise. Financial advice is so critical, especially now with the Great Resignation and bad advice coming from social media and influencers. I'm also here to protect the profession too," she says.
"I'm truly passionate about seeing people get access to real financial advice that's going to change the trajectory of their entire family, if not community."