Jane Mepham
Pursuing the American Dream
How Jane Mepham utilizes her immigrant background and corporate experience to help foreign-born individuals reach their financial goals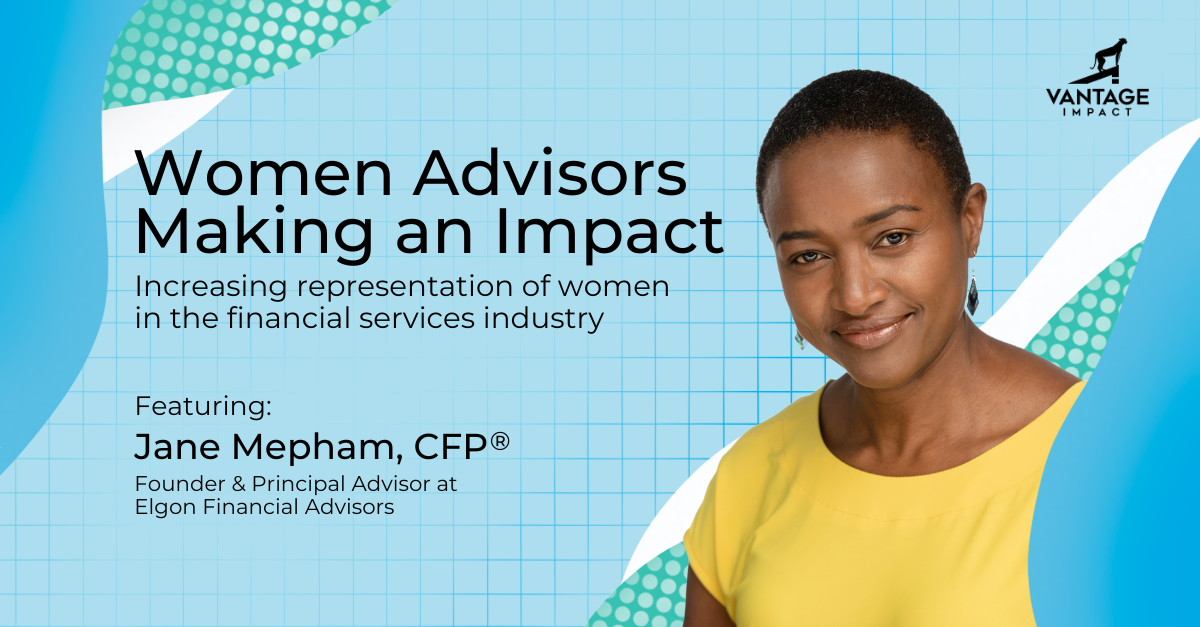 Born in Kenya, Jane Mepham immigrated to the United States in her early 20s on a student visa, studying computer science and math.
Beginning her career in information technology, one of the crucial lessons that Jane learned is the idea of transferable skills. She started work at Staples in very tech-heavy roles, eventually moving up into managerial positions. She cultivated her skills in managing teams and resources, as well as hiring. It was through the hiring process that she got an inside look at onboarding not only native-born U.S. citizens, but also individuals that came in on work visas.
Jane also found that she loved explaining things to people along with learning where people were coming from. "Breaking down complex tech things into common English and working with different groups and cultures was key… knowing that before you can help someone succeed, you need to know them and understand where they're coming from."
Jane understands and appreciates the vast array of cultural nuances that are at play for individuals as they journey toward their version of success. Her interactions also helped her understand that she is more than capable of transferring her skillset into other fields, where she could continue to make an impact.
Upon graduating college and beginning her first job, Jane recalls she was given a 401(k). "I had no idea what to do with it," says Jane, "I'd just graduated, and was very focused on my visa status. The thing I remember was the fear – being told that this is the way you get into your version of the American dream. They'd given me this product, and I didn't know what to do with it."
The experience propelled Jane to learn as much as she could about personal finance. "I started doing investing on my own, and at some point the light bulb went off when people started coming to me to ask questions on their personal finance stuff," Jane says.
When a move to Austin sent her into remote work, Jane decided that financial advising was what she wanted to do with her life and career. "I'm the kind of person that when I decide this is what I'm going to do, I jump into it all the way."
Jane enrolled at Bryant College to work toward her CFP® certification, and then dedicated herself to earning her Series 65. From there, it was a matter of finding a firm that would take her on with her unique corporate background.
Jane began working as an Associate Wealth Management Advisor to Andrew F. Spaanem, CFP®, CLU®, ChFC®, RICP®, AEP®, WMCP®, Co-Founder & Wealth Management Advisor at Physician Wealth Partners.
"I learned so much from that," recalls Jane. She was also able to utilize her tech background to improve operations through enacting workflows, CRM, etc. "They were willing to let me do back office work, client-facing work… It was an amazing role. I cannot say enough good things about that opportunity."
In her role, Jane worked primarily with medical professionals. "Every now and again, we'd have someone who was born overseas, who would have different visas and cultural things that they needed to be thinking about." One client in particular had a goal of supporting their five siblings in another country, and needed advice on how to accomplish that.
The wheels started turning, and Jane realized that there aren't many financial advisors who specialize in serving foreign-born individuals with different cultural backgrounds and needs. This market gap aligned with Jane's desire to help others whose journeys mirror her own.
Having grown up in a different culture, Jane realized that her already-formed core values gave her a unique perspective on various aspects of life in the U.S. This understanding opened the door for her to connect with other immigrants and foreign-born individuals and families with similar experiences.
Jane launched her RIA, Elgon Financial Advisors, in 2020 – beginning her niche-focused financial advising journey. Elgon is a virtual firm offering financial planning and investment management to immigrants and foreign-born individuals and families, especially those working in the STEM space.
Her first-hand experience with the immigrant journey, along with her passion for explaining complicated concepts to others, allow Jane to provide a distinctive service through Elgon. She takes the time to understand her clients' backgrounds, current state, and future dreams. She simplifies personal finance and puts it in the context of each individual's values and cultural ties – ultimately making wealth management accessible to everybody.
"We are such a diverse nation, and the financial services industry doesn't reflect the overall population," Jane says. She feels that diversifying the financial services industry – attracting advisors of all genders, ethnicities, and cultural backgrounds – helps give representation to all groups, and opens the door for younger people who may consider embarking upon a career in financial services.
Jane has also learned that while there is a lot of financial information out there, it can be difficult for individuals to weed out what might be applicable for their unique situation. In addition, advising foreign-born individuals has its own technical challenges, based on how the U.S. tax laws play with other countries' laws. For example, there are things that an individual on a work visa with overseas assets needs to be thinking about as far as taxes, filing etc are concerned, that don't apply without those connections.
She is committed to participating in the wealth management conversation, ensuring that the resources she curates are highly targeted. "Some of the posts that I write may not make sense to 90% of the people that look at it. But for the other 10% who are in that exact situation, that might be the post they needed that day."
Just over two years into her RIA journey, Jane is thrilled to be serving groups that have historically been underrepresented in the financial services space. She's also pleased to see more women and immigrants getting into the industry and advancing their careers. Jane herself recently earned her CERTIFIED FINANCIAL PLANNER™ designation.
"There's so much we can do, and we need to keep working together."
---
About Women Advisors Making an Impact
Vantage Impact knows the importance of diversity in the financial services industry, and that women are vastly underrepresented in the field. To help increase the visibility of women in financial services, we are excited to launch Women Advisors Making an Impact. In this collection of articles, we are spotlighting women financial advisors—their career paths, biggest challenges as women in the field, and ideas for helping grow female representation in the financial services industry. We hope you enjoy their stories as much as we do.
Want to help us share these important stories? If you know of a trailblazing woman advisor we should consider spotlighting, get in touch!