Rita Cheng
Playing to Her Strengths
How Rita Cheng navigated barriers to become a trusted financial planner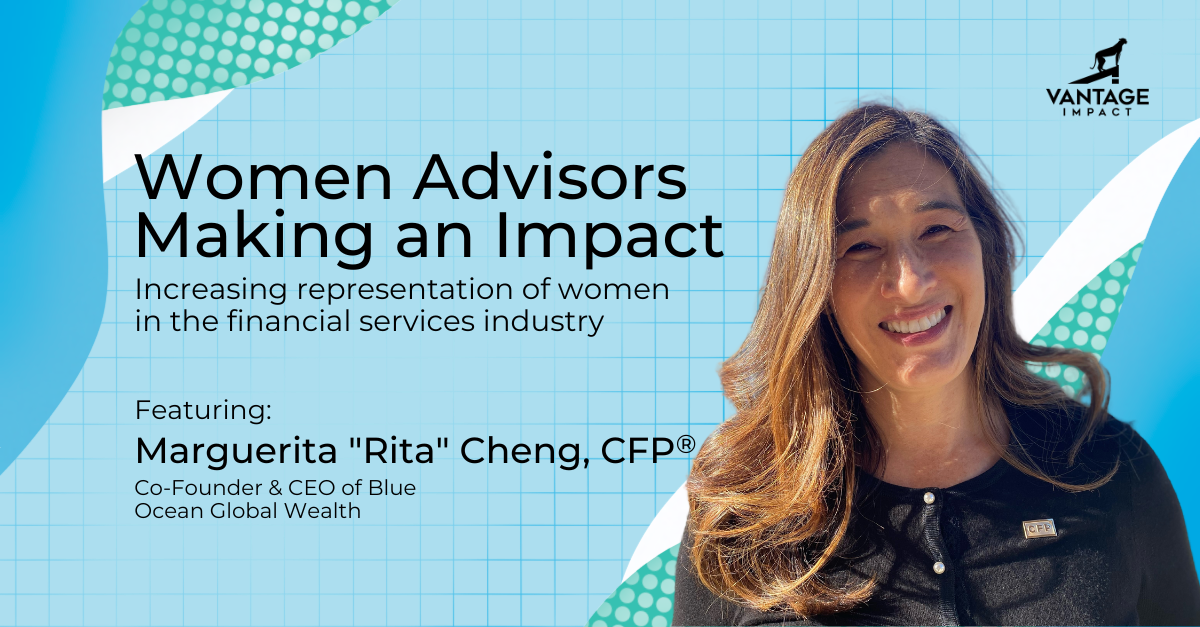 Marguerita (Rita) Cheng, co-founder and CEO of Blue Ocean Global Wealth, is a strong believer in earning trust, being prepared, and playing to your strengths.
She began her career using her math and Japanese skills as an analyst and editor at Towa Securities, primarily writing a newsletter for English-speaking investors in Tokyo. "That was a good job, I used all my skills, it paid good money, but it felt like it was a little too transactional," Cheng says, prompting her to take some time to find a better fit. She moved back to the US and worked while preparing herself for a career in financial planning.
She felt ready to pivot her career in 1999, when she was 32 and a mother of two. "It was not easy. Not just race, ethnicity, or gender. I didn't see anybody with small kids. Nobody else was a mom," she said. There were a lot of barriers, but she was determined to make the profession fit her family—not the other way around.
She had colleagues doubt she could do the work while raising kids, but she was an early adopter of technology and invested in a laptop to work after her kids went to bed. She balanced her job and family and once again, played to her strengths to make it work.
"I don't have the best sales skills," Cheng admits. "I have very good quant skills, and I have the ability to listen and relate and connect with other people. That's what helps me build trust. I was able to earn trust by being more detail-oriented."
For 14 years, Cheng worked for Ameriprise Financial. A few years into her tenure, she was reclassified from an employee to an independent contractor. She took advantage of the additional flexibility and studied for her CERTIFIED FINANCIAL PLANNER™ licensure. She is passionate about building relationships and guiding people through difficult decisions with good financial planning.
"What I really love about the profession is the relationships," Cheng says. "And seeing our work have a positive impact on the lives of our clients. Even when things are not going well. We can make a difficult situation better."
She had early aspirations to launch her own firm, but she waited patiently for the right time.
"I wanted to make sure I was ready. Maybe I stayed there too long, one can make that argument," she says, but looking back, she is glad she waited, given the global financial crisis that hit soon after. "Change can be very hard for people, especially during a volatile time."
While she waited for the market to stabilize, she spent time learning as much as she could about the business. She notes there are a lot more resources available today than there were in 2013, but she was still able to learn a lot from groups like the Financial Planning Association (FPA), National Association of Personal Financial Advisors (NAPFA), and XY Planning Network (XYPN), as well as podcasts and other blogs, like those by financial advising expert Michael Kitces.
"Once the markets recovered, I knew people would see the benefits of financial planning, and at the same time, my kids were getting older. There was no time like the present," Cheng said, and she seized the opportunity to co-found Blue Ocean Global Wealth. While transitions are difficult, Cheng tried to keep herself grounded by reminding herself to have faith, trust and confidence in herself.
Because she was so passionate about the planning aspect of financial advising, she wanted the flexibility to make that the crux of her business and her main focus.
Cheng believes that trust is the foundation of building a relationship with her clients. She works to build that trust during initial conversations and review of their data. Then they know she didn't pull the number out of the sky before quoting them a financial planning rate, she says.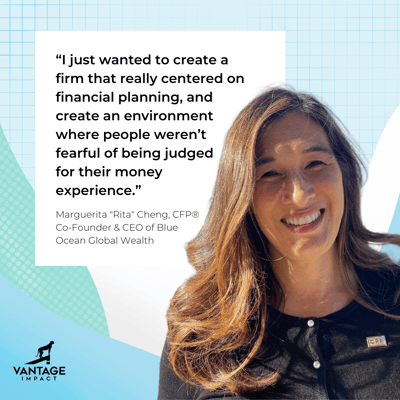 "The worst that can happen is someone says financial planning is not what they want to do, and that's fine. They may have wasted 15-30 minutes, but they weren't sold anything they didn't understand or didn't need," Cheng explains. "I just wanted to create a firm that really centered on financial planning, and create an environment where people weren't fearful of being judged for their money experience."
Cheng is proud of shaping her business to be what she envisioned it to be—especially now that she is the sole owner. In February 2022, Blue Ocean Global Wealth became an official Minority Business Enterprise and a certified Women's Business Enterprise. She aspires to continue building her team, growing her business and continue to mentor and support women in the profession.
"If I thrive, it doesn't mean another woman can't," Cheng says. "There's room for many of us to thrive, and that's because personal finance is personal."
Cheng says that she encourages other women who want to start an RIA to learn the business inside and out. "Find out what you like to do and find out what you're good at," she advises. "What you don't like is as important as what you do like." Then, she says, you can empower your team to assist where you're not as strong. Cheng also took advantage of outsourcing certain aspects of her business, like compliance.
You can also learn a lot from colleagues in your network, Cheng says. "I found that financial planners are giving people. I didn't ask for trade secrets, but I asked what tools they were using. They were happy to share that information, and it didn't take away from their business. Be intentional with your questions and respectful of people's time, but don't be afraid to ask for help," she says.
She also stresses the value of joining industry and professional associations. "If it's hard to go somewhere because of caregiving responsibilities, you can learn from online communities," she says.
Not only does she see the value in encouraging more women to succeed in financial planning, but she understands why it's so important to have diversity in many forms.
"The demographics of America are changing," Cheng says. "We are more racial, ethnically, and culturally diverse. There is also diversity in terms of religion, ability, neurodiversity, sexual orientation. So the reason why it's very helpful to be more inclusive and bring more people into this, is that we are able to better serve our clients by understanding their unique personal and financial circumstances."
"There's not only one way to define success and not only one type of advisor that can be successful."