Marianne Nolte
Treating Clients Like Family
How Marianne Nolte, CFP®, went from guiding her parents through financial decisions to helping fellow women take control of their finances.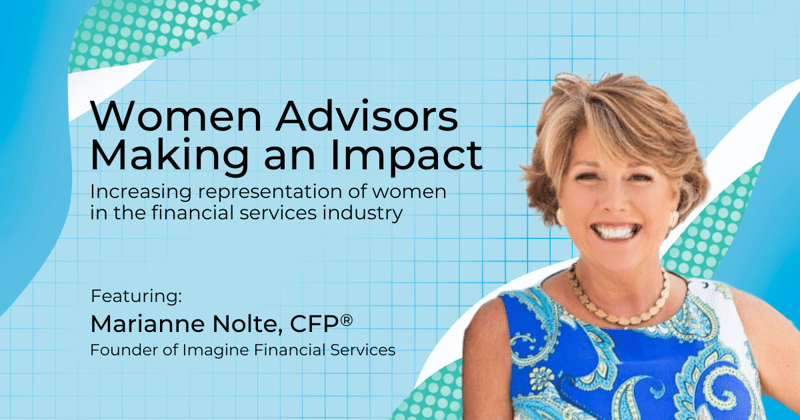 The first time Marianne Nolte, CFP® tried her hand at financial planning it wasn't for a client — it was for her parents. An only child, Nolte helped her mother and father with their finances when they started having health challenges. She set them up with a CPA, estate attorney, and a financial advisor, while taking an active role in their money management herself over the course of 15 years.
"The three of us would have regular 'family board meetings' to manage their finances. I developed, maintained, and updated records and reports, and then presented these reports to my parents," says Nolte. "It was a really good experience, because I got some quality time with them, and during those 15 years, they needed me more and more. And it put a spark in my heart that I really enjoyed the elements of financial planning. I didn't even know I was doing it back then."
The years of helping her parents kick-started a journey that ultimately led to Nolte opening her own firm, Imagine Financial Services, based outside of San Diego in Fallbrook, CA.
Marianne witnessed what a career in financial advising looked like through the years by watching the advisor she had hired for her parents, ultimately deciding she wanted to pursue working in the industry herself.
Nolte previously owned a video production company, so that meant a career switch. She joined a boutique broker-dealer firm and earned her CFP® certification. It only took a few years before she was ready to make the leap and launch her own independent RIA.
"Because I had been in business for myself for so long, I wasn't afraid of stepping off the ledge," she says. "It's maybe been a scary transition for some people, but for me, I was ready. It was joyful."
She launched Imagine Financial Services in January 2019, and felt prepared to make the move.
"I went about the transition in a very structured way. While I spent my time with the other boutique firm, I was able to recognize what I did and did not like, business wise. At the end of 2018, when I got ready to let them know that I was going to be starting my own firm, I had already written a business plan," Nolte says. By diligently planning her move, she was able to bring clients with her.
Nolte is a member of the XYPN Planning Network and she tapped into that community for resources and support. Even now, she has a standing video call every Monday morning with a group she met through XYPN. They continue to connect as a way to network, share ideas, and offer advice.
"The planning community is such a great community as a whole. A lot of advisors realize that there is an abundance of clients out there and we don't need to be cutthroat with each other," Nolte says. "We can support each other, and within the XYPN community, that is 100 percent how people operate. It's great that they can share their knowledge."
It was a fellow woman advisor who first encouraged Nolte to start studying for her CFP® certification, as she was making her career transition. Nolte was at a Women Adviser Summit in San Francisco, hosted by InvestmentNews, and a colleague at a roundtable discussion told her to go home and sign up for the CFP® course.
"All of the gals there were either CPAs or CFP® professionals and I was not," Nolte recalls. "And I took that advice to heart, and I'm so glad I did, because that's been a huge stepping stone for me in my education as a financial advisor. And that was a prime example of a woman helping a woman in this industry."
Today, Nolte's business focuses on helping women clients, and she calls herself their "thinking partner" in financial planning and decision making. She has found that women want to talk through questions and decisions, rather than be told what to do.
"They want to understand it and know what is going on with their money. A lot of times, women haven't had an active role in their money, if someone else has been taking care of them financially," Nolte says. "At a certain point, you start to hear women saying, 'I want to learn, I want to know what's going on. At some point in my life, I might be alone again.' They start to have these concerns and want to have somebody they can bounce ideas around with.
"Just like when I worked with my parents, I don't want my clients to feel alone or overwhelmed. I want to help clients get on track with their goals and build a foundation for financial wellbeing in their future."
Many of the women she works with refer Nolte's services to their young adult children, so Nolte's client pool of young professionals is growing. Other referrals come from her active volunteer work in her community, including with REINS Therapeutic Horsemanship Program, the Fallbrook Women's Club, and as a board member of the Fallbrook Chamber of Commerce.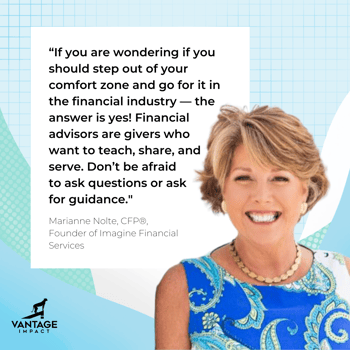 To other women thinking about either starting their own firm or entering the financial planning field, Nolte says: "If you are wondering if you should step out of your comfort zone and go for it in the financial industry — the answer is yes! Financial advisors are givers who want to teach, share, and serve. Don't be afraid to ask questions or ask for guidance. Tap the amazing network resources like XYPN and NAPFA. And join a women's group and brainstorm."