2022 Year in Review
Women Advisors Making an Impact: 2022 Year in Review

How the WAMI project started
Early in 2022, our team here at Vantage Impact was discussing challenges that financial advisors face in the context of transitioning firms: what ultimately motivates advisors to change firms or start their own RIAs? One topic we speculated about was the unique industry challenges faced by women as a minority group (less than 20%) among the total number of financial advisors. We started thinking more about this, and we had questions, like:
Why are there so few women financial advisors?
How are women getting started in the financial advisor space?
What different career paths have women chosen?
How have their experiences as women in the field affected their chosen paths?
Have women had adequate mentorship opportunities over the years?
What makes women unique as financial advisors, compared to their male counterparts?
We started digging in. We began identifying women financial advisors with a range of credentials in the industry who were willing to talk about their experiences and conducted interviews with each of them, uncovering answers to the above questions and more.
In March 2022, aligned with Women's History Month and International Women's Day, we began sharing the results of our efforts with our first Women Advisors Making an Impact ("WAMI") post on LinkedIn. It featured Pamela Stross and her incredible journey from working at a bank straight out of high school to where she sits today as President and CEO of TruClarity Management Solutions. We followed Pam's story with 17 more throughout 2022.
What we learned from our featured women financial advisors
Not every woman we interviewed has had the longevity Pam has, nor a career that started in a related field like banking. Women we interviewed came from a variety of backgrounds, including accounting, clients services, consulting, education, IT, management, medical research, and social work, while others took a more direct route to becoming an advisor.
Some are early in their careers, establishing themselves at their firms and building their books of business; others have taken leaps of faith and started their own RIAs focusing on specific niches—we met women specializing in advising divorced or widowed women, tech professionals, foreign nationals, university professors, and even other financial advisors!
Those who started off elsewhere often described having "a-ha" moments that drove them to make a change and pursue financial advising.
Brenna Surette, a wealth advisor at Burney Wealth Management, began her career in a client services role at the company, unaware that financial advising was an option for her. When she saw how she could apply analytical skills with her passion for building client relationships, it was a natural transition for her. "Those two sides together, it couldn't be more perfect for me," Brenna said.
Camille (Cammy) Smith had recently come home from a postgraduate exchange teaching English in Venezuela and was struggling with what to do next. "I recognized in that experience that I love helping people, especially through education. I love making an impact, especially on results and on people. And I love math, and math loves me," Cammy said. She expressed those passions to her dad—who then recommended she try out his business, financial advising. The rest is history, as Cammy is now President and CEO of Integrated Equity Management, the firm her father founded.
Jane Mepham, who didn't grow up in the U.S., remembers being overwhelmed by the 401(k) she was given at her first job. "I had no idea what to do with it," said Jane, "I'd just graduated, and was very focused on my visa status. The thing I remember was the fear – being told that this is the way you get into your version of the American Dream. They'd given me this product, and I didn't know what to do with it." The experience propelled Jane to learn as much as she could about personal finance. "I started doing investing on my own, and at some point the light bulb went off when people started coming to me to ask questions on their personal finance stuff," Jane said. Today, Jane runs her own RIA, Elgon Financial Advisors, serving immigrants and foreign-born individuals and families, especially those working in the STEM space.
Many of the women we interviewed noted that they may have pursued a financial advising career earlier, had they known about it in college or were exposed earlier to what a career in the industry looked like. Some ideas that surfaced to improve this problem were expanding financial planning programs at colleges, raising awareness of the career path for students, putting a greater emphasis on recruiting women for roles in the industry, and creating more mentorship opportunities. With more representation, women will naturally be more encouraged to pursue careers in the field.
Rachael Burns, who runs her own RIA, True Worth Financial Planning, said there is a misconception that you have to be an investing expert to be a good financial advisor. "I realized that it is 90% relationship-building—it's getting to know people, and getting to know what their goals are," Rachael said. "There's a learning curve, but you don't have to be an investment expert. I think if more people knew about that, we would have more women in finance."
A career well-suited for women
Many of the women we talked to noted that they were surprised that financial advising is a career well-suited for women, especially for those who are also mothers and want to have the flexibility to spend time raising their children while also making an impact in their careers.
"This is such a great career, especially if you want to have kids someday," Raquel Hinman, founder and principal at Hinman Financial Planning, said. "It constantly challenges you, you can make good money, and you get to help people and help solve problems. In terms of the work you get to do, it's creative and interesting, and you can choose flexibility, working either full or part time. There are so many ways to do it these days, and you can make your career whatever you want it to be."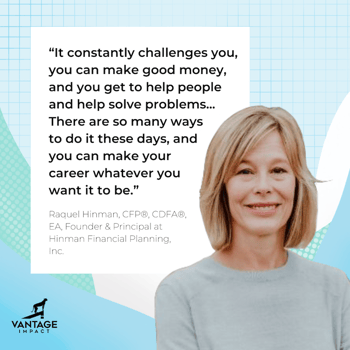 Brittan Leiser, an advisor with MB Wealth Management Group and founder of SavviHer, likes that she has the flexibility with this career. While her young children take up a lot of her focus today, she knows there is an opportunity to accelerate the impact of her businesses when they get older. "I love what I do, and I'm very encouraged by the success I've had to date, so I'm really excited to hit the ground running even more so when life opens up a bit more for me," Brittan said.
Our featured advisors also noted that they feel strongly that women often take a different approach toward building client relationships than men do—and they thrive in that role.
Erica Arroyo, COO and wealth advisor with MA Private Wealth, said women can offer a different perspective. "A primary factor of the role of a financial advisor is trust and connection, and I think women oftentimes excel in that area. In fact, I believe the ability to provide sound and intelligent financial advice is not gendered, and I look forward to the continued evolution of our industry for more representation in all positions," she said.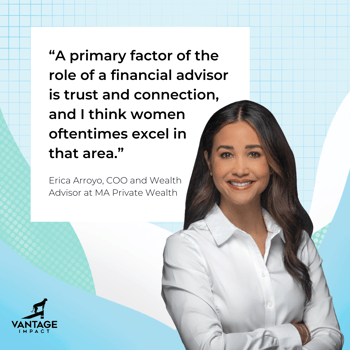 Overwhelmingly, the advisors we met with were passionate about serving women clients, acknowledging they understand and can identify with their unique needs.
"Women have to support other women. We have to lift each other up," said Jacqueline Campbell, President and CEO of Alexander Legacy Private Wealth. "We need to make sure we're surrounded by people who care about us, especially dealing with our finances—it's so critical."
To go a step further, our featured women advisors spoke about how important it is to have a diverse set of financial advisors for clients to choose from. Marguerita (Rita) Cheng, co-founder and CEO of Blue Ocean Global Wealth, talked about how the demographics of America are changing.
"We are more racially, ethnically, and culturally diverse. There is also diversity in terms of religion, ability, neurodiversity, sexual orientation. So the reason why it's very helpful to be more inclusive and bring more people into this, is that we are able to better serve our clients by understanding their unique personal and financial circumstances," Rita said. "There's not only one way to define success and not only one type of advisor that can be successful."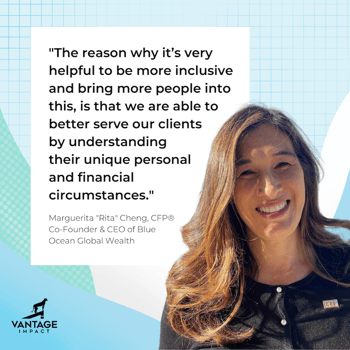 Mentorship and women financial advisors
What was particularly interesting about the women we interviewed was the inconsistent access they had to women role models and mentors in the space. It's often said that people are more drawn to a career or motivated to succeed at something when they see someone that looks like them succeed in the role. Many women we talked to found valuable mentors in men, and a few did have another woman (sometimes not in their field) who they looked up to and learned from, but almost all said they would be interested in participating in a larger network of women advisors and mentoring other women, to provide a perspective they didn't get when they were coming up in their careers.
Catherine Allen-Carlozo, a financial advisor at HFM Investment Advisors, tries to pass down what she's learned about working with clients over the years. "A lot of mentoring is just trying to keep them encouraged. I want them to learn how to build the relationship, and the trust, and the competence," she says. "I never really had a mentor, which to me, was very detrimental in our business. And because of that, I'm big on mentoring, whether it's younger guys or younger women."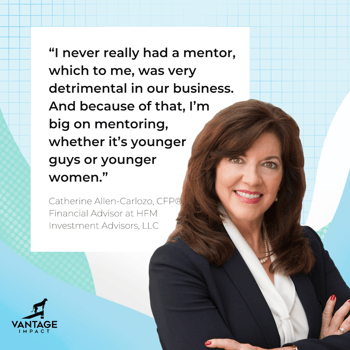 Akeiva Ellis runs a financial education business called The Bemused with her husband. Over the years, Akeiva has valued the advice and guidance she's received from mentors she's met through the National Association of Personal Financial Advisors (NAFPA), the Association of African American Financial Advisors (AAAA), her role as a CFP Board Ambassador, as well as companies she's worked for. Now she happily takes on that role herself. "Mentoring is one of my favorite things to do," Akeiva said. "Lots of Black women find me, and I especially love being a resource for them."
Representatives from the Vantage Impact team recently attended the InvestmentNews Women Adviser Summit in New York. Among the many benefits of attending the event, we were able to connect with a few different groups that offer more formal mentoring opportunities for women. One is Women in Insurance and Financial Services, a professional association with a robust mentorship program free to its members. If you're interested in connecting with this group, you can visit their website.
What's next for the Vantage Impact WAMI project?
When we started interviewing and writing about these women, our goal was to create some buzz around the incredible ways women were impacting the industry and overcoming challenges not typically faced by men advisors. Based on the reactions to the stories we've shared, we've achieved that and more.
Not only have we been granted the opportunity to share the stories of 18 women in 2022, we continue to be referred to more women advisors who deserve to share their unique stories—and we hope these recommendations continue coming in. In fact, our new WAMI webpage includes an easy nomination form for recommending a colleague (or yourself—don't be shy!) to be featured, so we encourage you to take some time to submit a name or two.
We've also been fortunate to grow our network as a result of the project, meeting more women advisors looking for transition expertise and guiding them through an otherwise complicated process. (If this sounds like you, we invite you to take a look at what we do for financial advisors looking to change firms or launch an RIA and how we can help).
As we head into a new year, we look forward to continuing to share the stories of trailblazing women in financial advising while raising awareness about their unique challenges—and we hope you'll tag along for the ride.